cowboy boots: mom's; jeans: panache; top: f21; cardi: target
me in all my squinty glory!
check out that sky behind me, though...gorgeous!
also, check out that top worn as a skirt
here
...tricky!
every week,
lacie
does a 'what's on my phone?' thing and i decided today to follow suit...even though it's not the right day to link up in the original blog or whatever. so here's what my cell phone vomitted: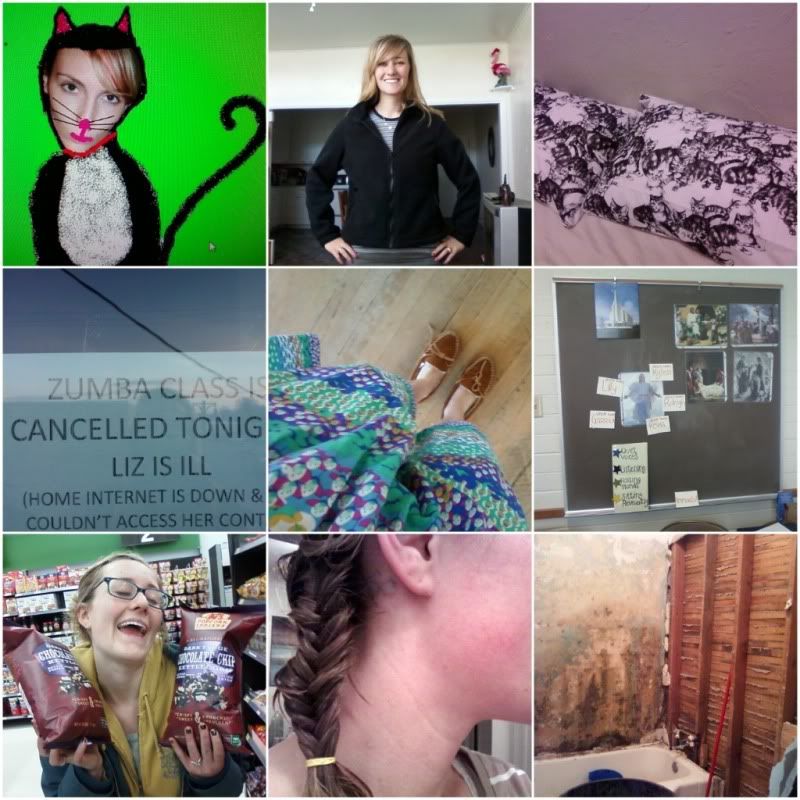 1.
michelle made this the desktop background for the store's computer and it's practically the funniest thing i've ever seen in my life. its her...wait for it...as a cat. hilarious.
2.
i put my fleece sweatshirt on and david said i looked like
my mom
in it, so i made him take a picture so i could see/send it to her.
3.
CAT PILLOWS FROM
L
! i love them soo much.
4.
the day the heavens opened up and the angels sang. obviously not because someone was sick, but because zumba was canceled!! zumba is in the ballroom next to my apartment and it is SO LOUD. they BLAST their music, the ladies shriek and random times, and it's so awkward when i need to walk through to leave my building. so i was thrilled when it was canceled...also, they spelled the word canceled wrong. further reason to dislike zumba.
5.
on sunday i left for church in slippers...and had to go back and change when i realized the mistake. this is what happens when david isn't here. i start losing my mind.
6. my little sunday school classroom after a lesson one week! i really, really love teaching the 4 year olds.
7.
my little brosef told me about this amazing chocolate fudge kettle corn and then gave me
very
specific directions to find it in wal mart...so i texted him this picture and said, "i found it."
8. i got a deep condition and the adorable megan did a fishtail braid for me! and i loved it.
9. my bathroom is being ripped out today.