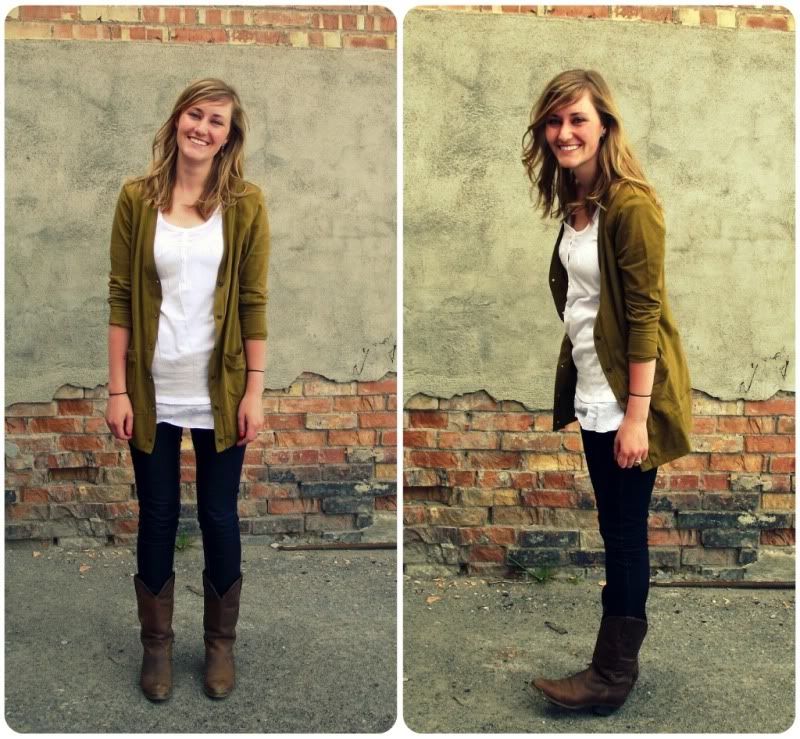 boots: mom's; jeans/top: panache; cardi: target
he's home he's home he's home!
i had, seriously, the worst morning ever.
first i was late for class and gave myself an asthma attack sprinting there. so i hyperventilated through a half hour of senior writing seminar.
then i realized that i forgot to leave store keys for megan to open up at 11 while i was still in classes.
so i left my second class early and sprinted back home...and the keys were nowhere to be found. luckily, i found spares in time for her to open 10 minutes late. by that point, i was late for my third class so i decided to stay home, clean house, and pick david up when his shuttle got in.
well...my toilet and sink are in my living room and there are white, plastery footprints throughout my whole apartment. so even though i cleaned and cleaned, it just didn't look that great.
and i somehow dumped a container of nail polish remover all over my bedroom floor.
and lost my cell phone.
and discovered that a paper cup full of diet coke had gotten soggy and filled my cup holder with soda.
despite all this, i made it to where david's shuttle dropped him off...and everything was ok.
we did a slow motion run towards each other, arms outstretched, and shared a glorious, wet kiss while bystanders watched admiringly and clapped. just kidding, we think PDA's are awkward.
but we did get lunch together before i had to be back in the store!
i think i get used to david's hotness when i see him every day, so it's kind of fun when he's been gone for a while and then i see him again...i just keep looking at him and can't believe how cute he is!
welcome home, mr. david.
i missed you very much.