so we got this sweater at the store. i was excited about it, because it's bagggy and has stripes. and i like loose-fitting clothing...and stripes. but it looked weird in real life; it was too boxy: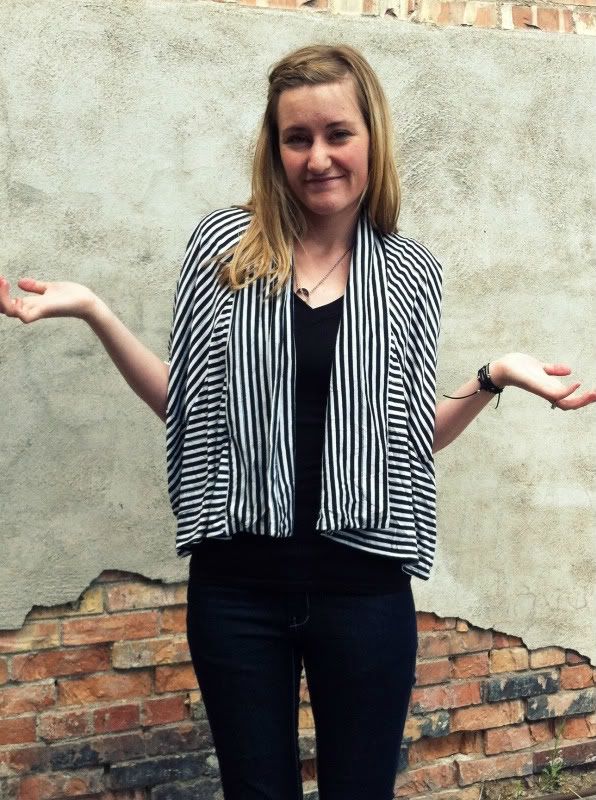 see? frumpy mcstugerson.
(i don't know why i keep calling things "mcstugerson." say it out loud, though--it's a fun name to call things!)
and, as
TAMN
would say, frumpy things makes me real frownz.
so i started fiddling with the sweater. surely i could make it cute. the mission consumed my life, i tell you! just kidding, i only messed with it for like 5 minutes.
but, VOILA! a solution!
flats: target; jeans/cardi: panache; top/necklace: stolen from my mom
when turned upside down, it fits like a dream! actually, i'm convinced this is how it's
supposed
to be worn...but the tag and hanging straps are on the other end. puzzling. anyways, now i love all of this sweater's baggy stripedness! i feel like an adorable prison inmate!
so my mom is here and we haven't stopped partying.
i prepared for her arrival by getting kettle corn from the farmer's market and making DAIRY-FREE reese's peanut butter bars. housewife mcstugerson over here!
my goal was to get my mom all filled with sweets so the resulting sugar high would make her happy enough to move into my apartment and stay with me forever. is that weird?
we got up at 7:00 this morning (
on a saturday
) to go to target in idaho falls. we had to get there early so i could come back to rexburg in time to open the store...but that meant getting there early enough to be followed around the clothing section by an employee with a vacuum. totally worth it to go to the mothership and pick up some more tissue tees (i'm obsessed with those things. lightweight, longer short sleeve, bright colors...heaven).