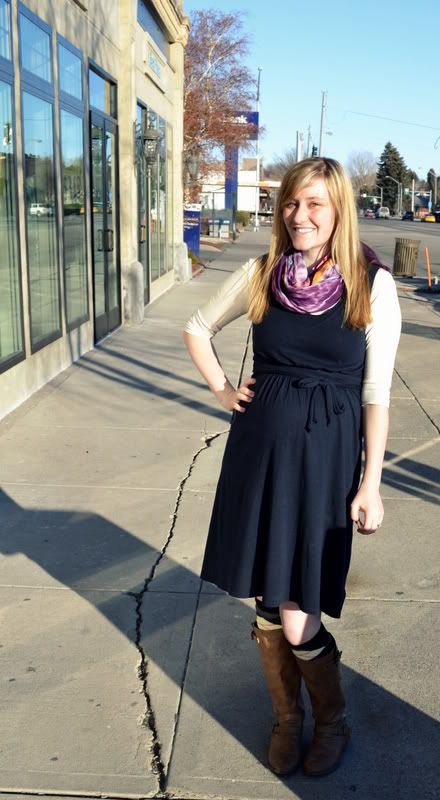 boots: thrifted; socks: gift; dress: gap; scarf: panache; tee: c/o halftee
the folks over at
halftee
sent me this undershirt. it ends right above my belly, so it's the most insanely comfortable, non-bulky layering piece ever! i can't wait to test it out while nursing, too. how convenient. they're made for everyone, not just pregnant ladies, so you should definitely head over to their website if you're looking for some new layering options.
so after the worst day of traveling ever, i made it home!
i started off my day in the oakland airport, where the duffel bag i was carrying on top of a rolling suitcase swung around, knocked my feet right out from under me, and sent me sprawling. about five people had to awkwardly step over the 8-months pregnant lady sprawled out on the floor to get ahead of me in line...awesome. it took me a good couple minutes to haul myself up off the floor and get to a bathroom so i could pull myself together and call my husband to tell him in a wobbly voice how humiliated i was (i landed on my hands and knees; the little dude is just fine!).
then, my ride from salt lake to rexburg was a good 45 minutes late...so i sat in frigid weather in the pick-up line, shivering and waiting. i finally smooshed into a very crowded car and sat in the same position for the four hour ride. the roads from idaho falls to rexburg were horrendous, and at one point a truck in the oncoming lane lost control and spun into our lane, literally inches from the car. i have never been more terrified in my whole life. thank goodness our driver kept a cool head and avoided a huge crash.
by the time david picked me up, i got into our car and burst right into tears. i just felt so overwhelmed by how awful the entire day had been and how badly my knees, back, and chest ached. instead of a romantic reunion kiss in lightly falling snow, david got a blubbering mess. a back rub, a kiss, and a quiet dinner out together made everything better again and i was so happy to see my husband.