shoes: delias (like 5 years ago); jeans (m): target; top: panache; vest: buckle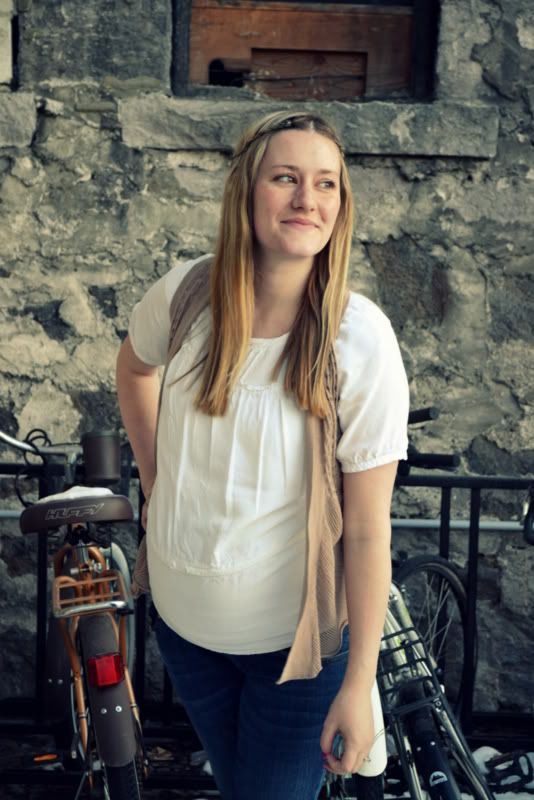 i think in that last picture i'm looking at the kids arriving for their ballroom dancing class above our apartment thinking, "hey, kid. stop screaming. stop stomping. just be calm."
apparently they don't have ESPN (you know, like a fifth sense), though, because that dang ballroom was just as noisy as it always is when i get off work. i actually put my ear phones in while i was peeling hard boiled eggs for my egg salad sandwich just to escape the instructor's shrill voice right above my head, clapping and yelling out dance steps.
things i love right now:
+ homemade chocolate muffins (i even made my own ground oats for gluten-free flour! boom!)
+ my mocassins and yoga pants. as soon as i'm done working the store, they're on like donkey kong.
+ late night talks with david in our quiet apartment while sitting on my birthing ball, aka the most comfortable seat in the house.
+ showers. not like in a sexy way, but in a "i've had a waistband around my huge middle all day and it feels so good to be clean and warm and unrestricted" way.
+ friendly customers. they always make my day.
+ this blog! blogging is fun. sometimes i start to feel like it's a chore to post every day, and i have to step back and remind myself that i started this because it's fun to write and post silly outfit pictures and meet new people, even if i don't have a gazillion dollars to spend on fancy new clothes or an iphone to do entire posts of insta-whatever pictures.
+ cheese sticks. mmm.