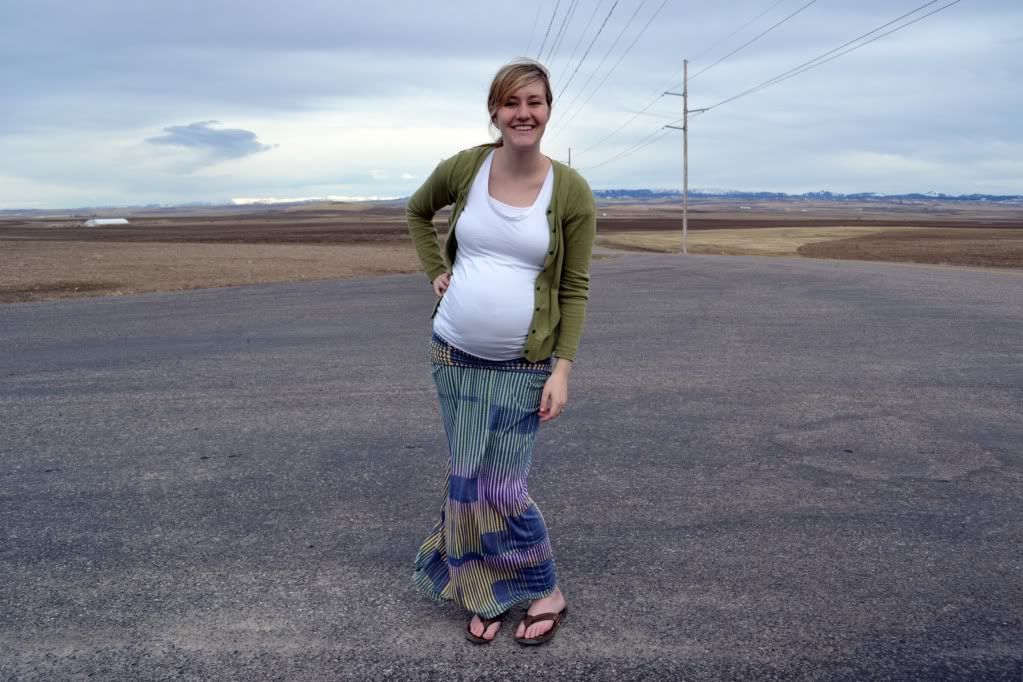 sandals: rainbow; skirt/cardi: kohl's; tee (m): target
bring on the maxi everything!
i've been trying to save my maxi dresses and skirts for these last few weeks of pregnancy when i knew i'd be the biggest. i didn't want to get sick of them before now! i'm full-term this week, and i've been so excited to pull these out of my closet and be so comfortable. i may or may not have worn this skirt 2 days in a row--sunday with a cardigan for church, and monday with a yoga hoodie and ponytail for shopping. super glam. also, i'm adding pregnancy to the list of milestone life events i've worn these sandals to, alongside high school prom and my wedding day.
i've gotten a wide range of comments on my size lately. they start at, "wow, 9 months? you're tiny!" and go all the way up to, "you're HUGE! you must be about to POP!"
i am both amused and confused by these comments. before i went and got myself knocked up, i thought pregnancy was the only time women liked hearing that they were huge...but it turns out it still kind of sucks.
i don't know if any woman enjoys commentary on their size (or do they? maybe it's just me?). it always makes me wonder. am i bigger than most women getting ready to have a baby? too small? is my baby going to weigh 12 lbs? or 4? will i always have a gut that rams into things?
anyways, strange things that people say to pregnant women (myself included!). i don't mind it too much, it's just been interesting to observe as i've grown rounder. any horror stories about this out there?