junior is one month old! i have no idea how it happened, but it did.
we've settled into a (sort of) routine around here and it's been nice. we've still got so much to learn, but we're pretty excited about where we're at right now with our little guy.
i was thinking the other day about the products we've used over and over again in the last month and decided to share them with you! i won't do posts like this often, i just thought this might be helpful if you're expecting or if you're shopping for someone who is. most of the items i've come to depend on are breastfeeding related, since nursing is a HUGE part of my new life.
let me know if you have any questions, or if you have product recommendations of your own! i would love to know what you use and love.
1. johnson's nursing pads - i was told over and over again that i wouldn't need these right off the bat, or that i'd wish i was producing enough to need them. well...i needed them. in a big way. i tried other brands and i made my own, both of which will be nice when things...slow down a bit. for right now, though, these ones are up to the task. if you've got an oversupply situation, i recommend these.
2. boppy (with "a dog's life" slipcover [which i personally think is the cutest one they make ;)]) - i use my boppy every single time i nurse. even if i'm sitting at the dinner table, i run and grab my boppy. it's so cozy, saves my arms, and junior often falls asleep right there nestled against me after he eats.
screen shot from a home video. hanging out on the bops.
3. gilligan & omalley nursing tank tops/bras
(from target)
- the only way i'd be able to leave my apartment for more than an hour. they make nursing in public discreet and comfortable. i like the plain white ones for a basic undershirt and the grey one pictured to wear with
(what else?)
cardigans.
4. halo sleepsack swaddle - junior L O V E S being swaddled. the halo sleepsack is our nighttime BFF, and he looks friggin adorable all bundled up.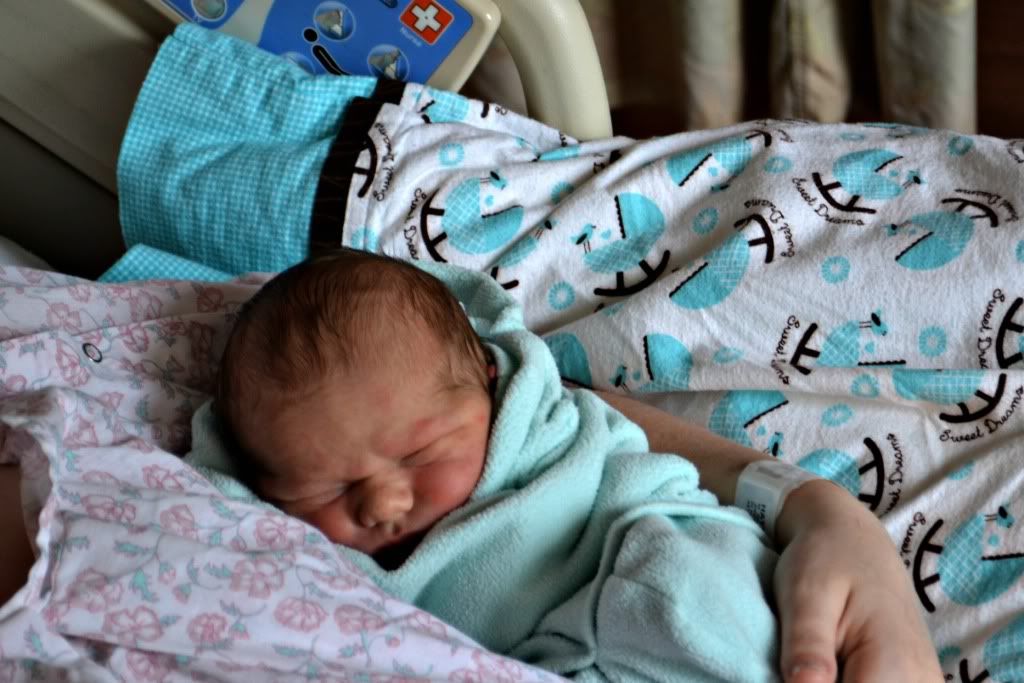 all swaddled and happy and tiny at the hospital...this picture makes me cry because he's already gotten bigger.
5. prefold cloth diapers - i don't actually diaper with these, but they're perfect for everything else--as burp cloths, impromptu changing pads, baby face clean up, etc.
6. moby wrap (in "sienna") - once again, my kid loves being swaddled. the moby wrap has already earned its keep in our house...junior falls asleep within minutes of being tucked into his moby wrap every single time, no matter how hysterical he is. i got it tied all correctly following the booklet that came with the wrap the first time and it hasn't been a problem since. it makes being out and about so simple.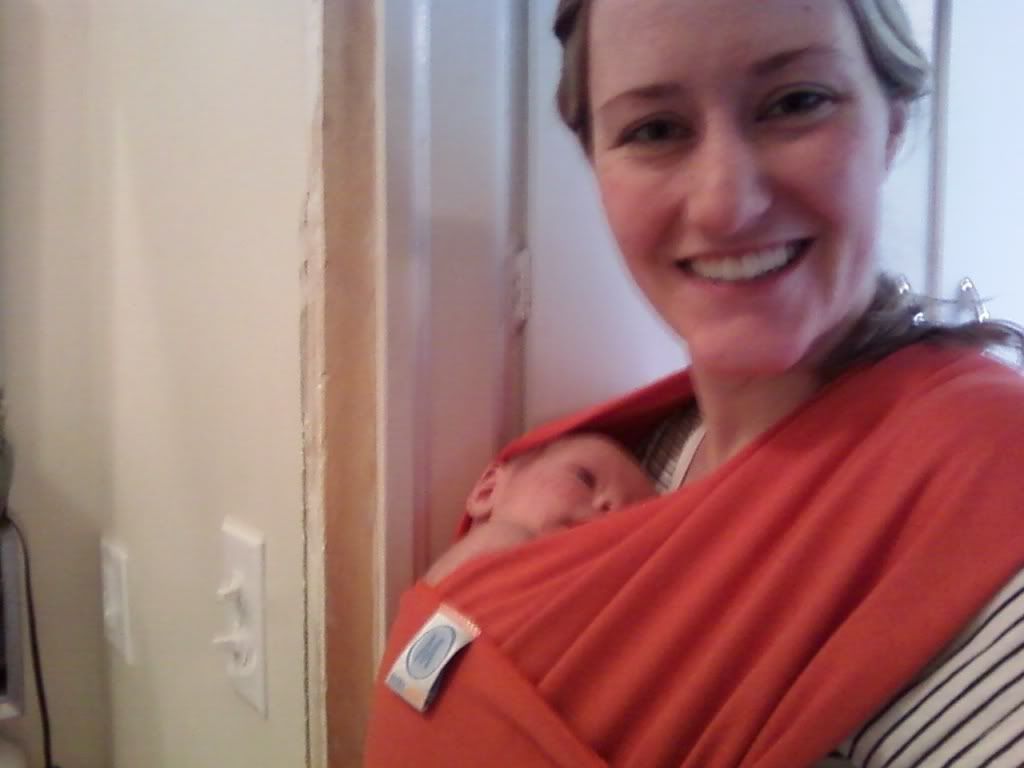 cell phone picture...doing chores at home in our moby!
(not a one of these items was sent to me for review or anything; these companies have no idea who i am. i just like what they got!)