welcome to a new segment on my blog called Branswers! i'll be giving you my solutions to every day problems. it's called Branswers because, a.) i like plays on words, and b.) i hate that everything in the world is now titled "DIY." obviously these solutions are not professional or ground breaking...they're just the brandilyn way of fixing problems.
i do not have a walk-in closet, or a big closet, or even my own closet. i also do not have space in my bedroom for a dresser, a wardrobe, or pretty much anything other than my bed and my laundry hamper.
thus, my wardrobe storage is limited to this closet, located in the only bedroom in our couple-hundred-square-feet apartment: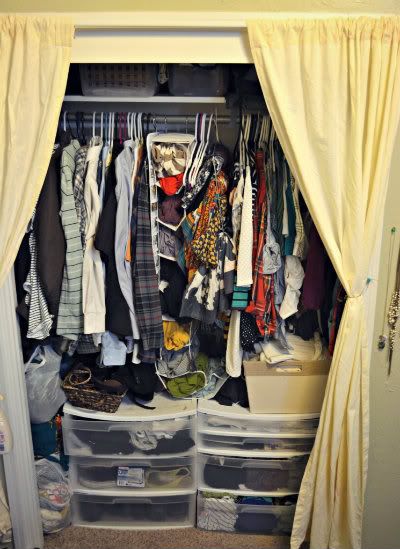 which i share with david. the right half is mine.
every few months, my side of the closet becomes a heap of crumpled clothing that i can't ever seem to find a darned thing in and it becomes time to clean it the freak up.
and so, with exceeding embarrassment, i now present my before pictures: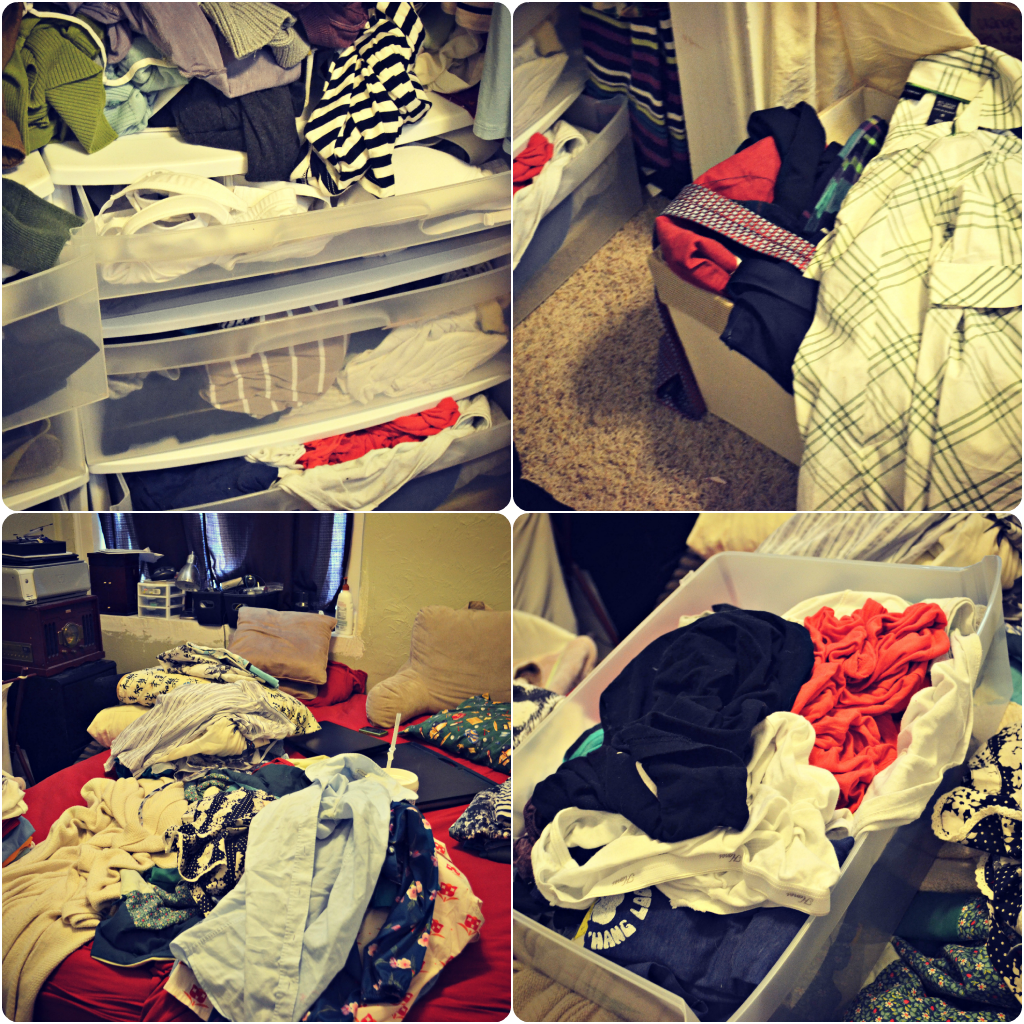 yeah. i'm still not sure those pictures should have ever been posted on the www.
so here are a couple quick solutions i've found to restore order to my limited little corner of the apartment.
1.) tee shirt bin.
i got one of those cheapy wal-mart plastic storage drawers and it sits on the floor of my closet. i use it to store my massive tee shirt collection.
this tutorial
shows how to fold and store tee shirts so you can actually
see
all of your shirts, and so you get maximum use out of drawer space. very helpful for a tee shirt
collector
hoarder like myself.
2.) skirt hanger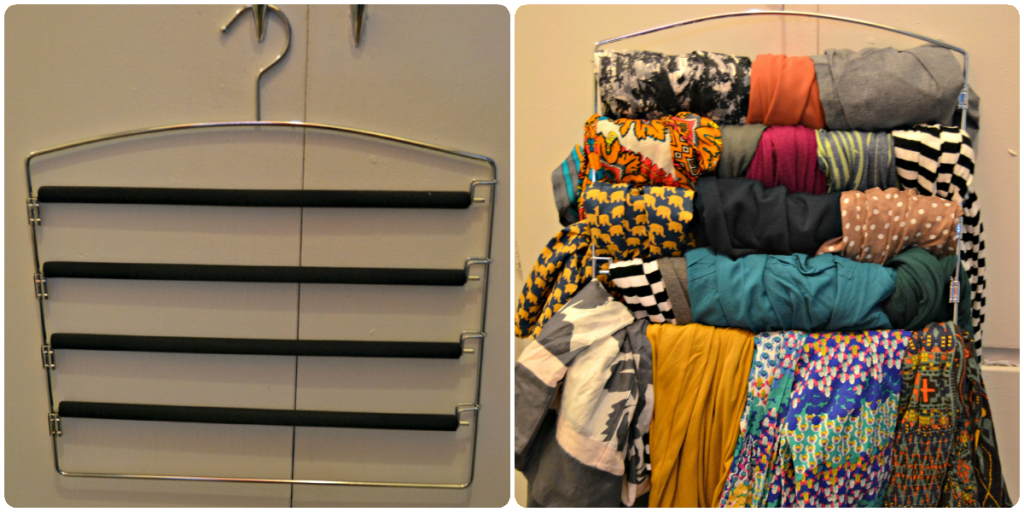 i got a pants hanger from bed, bath, & beyond (
similar one here
) and use it to store my gazillion skirts. it doesn't look very tidy when looking into the closet because the skirts bulge out on the sides, but it's easy to pull out when choosing a skirt to wear and keeps them (somewhat) wrinkle-free.
side note:
if at this point you find, in the back of your closet, a stuffed fox puppet that you and your mom have been secretly swapping back and forth for years, it is ok to stop and have yourself a good homesick cry.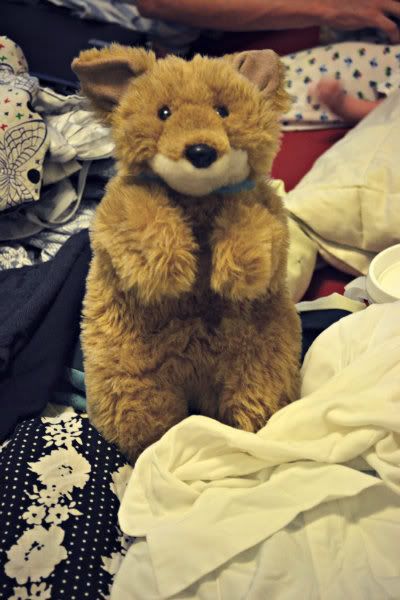 3.) jewelry wall
i just found a section of my bedroom wall that was unused, stuck a few tacks in, and called it good for tangle-free necklace storage. it's not pretty, but once again, i'm working with zero space here.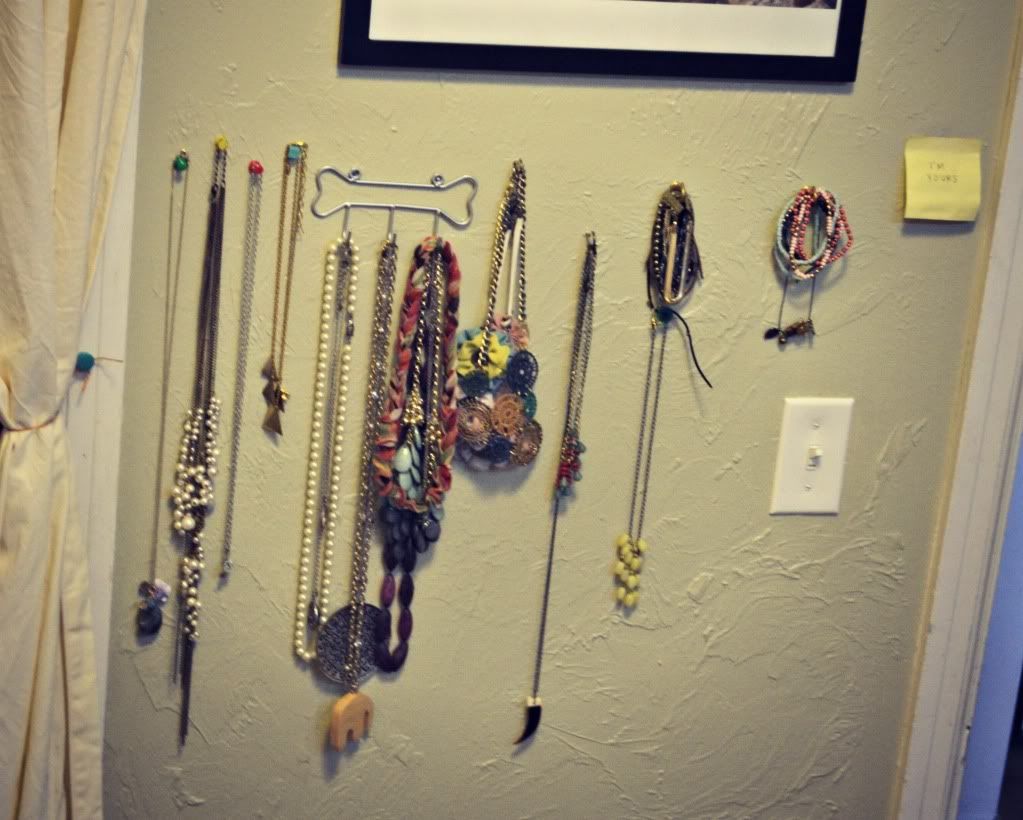 4.) cardigan tower
i got a shoe tower (
like this one
) to put my cardigans in (you can see it in the photo below). it would also work well for tee shirts, jeans, whatever, and it makes it easier to look through when deciding what to wear.
so this is my final product! it's definitely not that pretty or pinterest-worthy at first glance, but everything has a place and it's easy for me to find things.
BAM. that's how i make things work with what i've got.
any tips for living in a small space?