sandals: charlotte russe; pants: wet seal; top: downeast; hat: target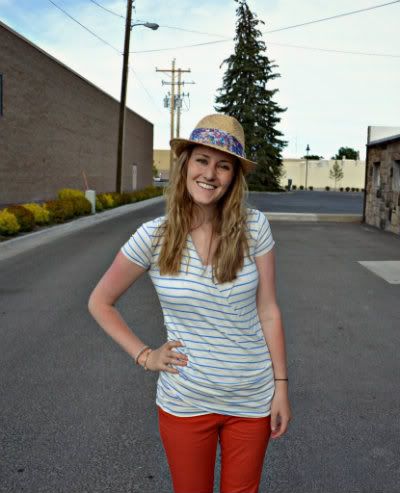 i bought these pants when i was
holy-crap-huge
pregnant, a stage that occurs somewhere in the third trimester (
insert hormonal sobbing about how time is flying too fast and my baby is huge and i kind of miss being pregnant
). i was at wet seal with kate and everyone on planet earth was sporting darling colored jeans, a trend that seemed to begin after i found out i was expecting. i bought these because it was a good deal and i though, "well, shoot, hopefully they'll fit me someday."
well, they fit and i cheered.
now, two months after having a baby (
FINE, ten weeks, but you're going to have to insert those water works again
), they are too big. can i get a hallelujah for nursing and living on main street and being able to walk all over this teeny town to run errands and dropping weight quickly?
hallelujah!
but really, that's not what this post is about.
this post is about how i didn't realize my new orange jeans had gotten too big for me until i went to upload these pictures and i realized that they were a little baggy 'round the lady parts.
as in, baggy enough that they created a decidedly un-ladylike bulge in the crotch region.
isn't that just wonderful?
this, ladies and gentlemen, is the glamour that my world (and my blog) is made up of.
please join me tomorrow, when i'll be discussing* leaking breast milk all over my shirt in public!
*note: i will not actually be discussing that, due in large part to the dignity already lost in the writing of this post. please note also that that is not to say it hasn't happened.