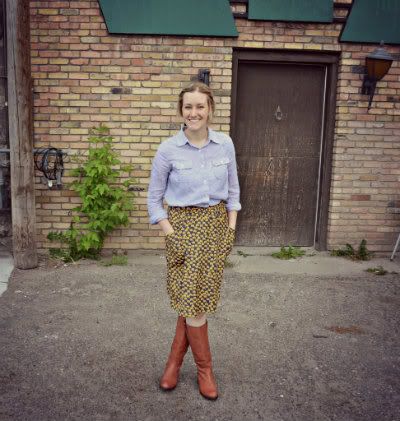 boots: madewell; skirt: modcloth; button-up: panache
good thing i had some extra outfit pictures because seriously, yesterday i was in my underwear until about 4:00 with the previous day's make up smudged under my eyes. embarrassing, but i'm here to record the truth! being a momma is hard and rewarding and exhausting and exhilarating and so, so much fun...it is a thousand things, but it is not glamorous.
moving on...we've been loving the gorgeous idaho summer weather! i go on a walk every day with the jooner, sometimes more. usually i pack his 12-pound (
homeboy's nearly doubled his birth weight in 9 weeks, ohmygosh
) bum into the moby and carry him around, but the other day i loaded up the stroller with everything we'd need for a nice little picnic lunch.

we nearly had the park to ourselves, and i got to read my book and eat a sandwich while my little one napped in his favorite hoodie from
auntie rachel
. have i mentioned how much i love living in a small town? because i really love living in a small town.