sandals: charlotte russe; skirt/hat: target; tee: kohl's
i actually wore this tee shirt on a friday! people commented on it all day long. "friday i'm in love...huh! like that cure song!" "hey, i'm in love on friday, too!" it was a lot of fun.
that last picture is of the jooner and me before we headed to the farmer's market, as per our friday tradition. we picked up our usual bag of kettle corn and peach italian soda and our little guy was just a sweetheart.
on friday night, there was a plane crash right onto the golf course here in rexburg! crazy! apparently the pilot walked away from it all right, but the plane was totally wrecked (obviously).
david and i were over at the skate park right next to the golf course after it all went down and walked over to be nosy and see what was going on. everything had simmered down by that point and it was mostly just firefighters hanging out.
anyways, that's the most excitement rexburg ever sees. thank goodness no one was seriously injured.
saturday was the air show. we went and people/plane-watched, walked around, and both got sunburns.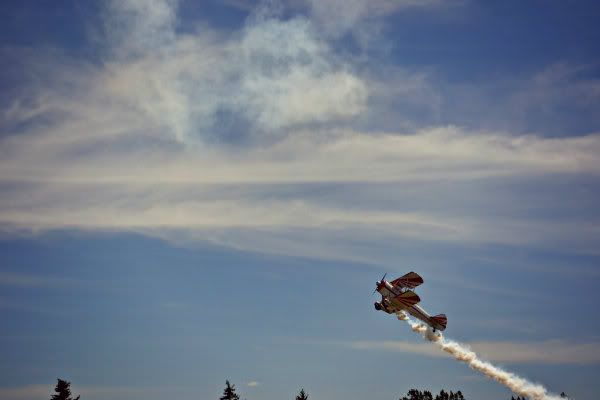 p.s. if you missed my post about father's day, check it out
right here
.