from time to time, david leaves on business trips. he's usually only gone for a couple days, but i really miss him while he's away. i always try to send him off with a little note or treat (or both!) for every day he's gone.
last week, he was in new mexico from thursday afternoon until saturday night.
here's what i sent him off with...
i got a pill box with AM/PM compartments for every day of the week.
i wrote him little notes on strips of paper, then rolled them up and put them in the compartments corresponding with the days he'd be gone. since i was using less than half of my pill box, i filled the rest of the compartments with chocolate chips, then left instructions on the back of each note to "eat the chocolate in the Mon AM slot!"
i used
enjoy life mega chunk chocolate chips
for my allergic-to-everything husband. if your husband can eat anything (lucky!), you can get a lot more creative with treats than i did and use anything that will fit in the little boxes...M&Ms, hot tamales, gumballs, whatever. you could also probably find cute little pill-sized trinkets, which i'll be brainstorming for his next trip!
this is nice because it barely takes up any room in david's carry-on, and it gives him a tangible little reminder every day that the jooner and i are thinking of him.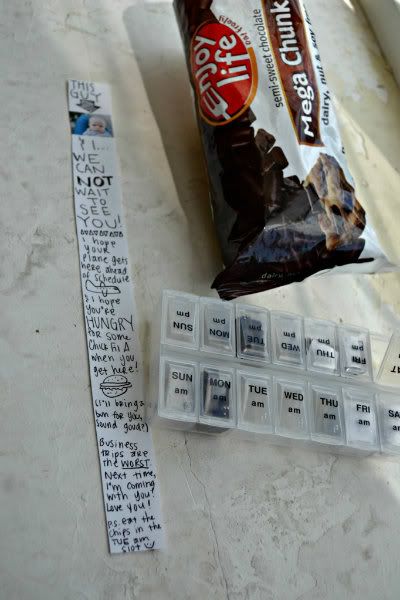 what would you put in a pillbox for someone you love?