my mom bakes these cookies. amazing, amazing chocolate cloud cookies.
they're refined sugar-free, vegan, and dairy-free...and they are so good.
the first few days after i had joonsy and was in a sleep-deprived, ecstatic stupor...these cookies were the stuff my dreams were made of. i think my mom made 5 or 6 batches while she was here...and she triples the recipe. triples!
i'm dairy-free these days, and david's always dairy- and gluten-free, so these are the perfect dessert for us.
the ingredients are spendy, but i made peace with spending more on food a long time ago. processed food is cheap, healthy food is not. we'd rather spend more money on food and less on doctor's bills...so it's all good in this hood.
ok, enough talk. i'm here to share the recipe with you and hopefully you love them.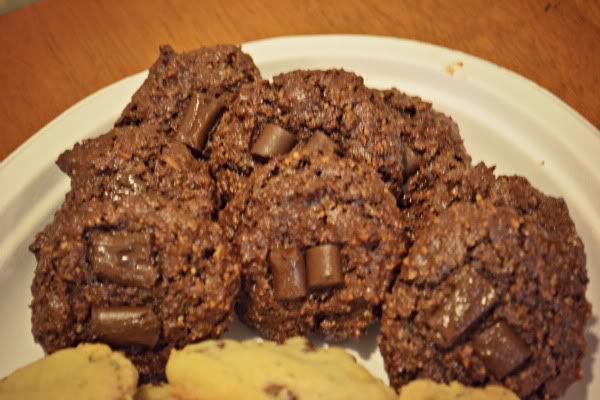 1 flax egg - 1 T ground flax + 3 T water, mixed (or one egg, if you don't need them to be vegan)
1/2 cup unsweetened, shredded coconut
1/2 cup almonds ground into flour (i just bought almond flour)
1/2 cup sucanat
1/4 cup cocoa powder, sifted
1 t baking powder
1/2 t kosher salt
2 t pure vanilla extract
2 T almond milk
1/4 cup almond butter
1/3 cup vegan chocolate chips
because what kind of a blogger would i be if i didn't carefully arrange all of my ingredients for a photo?
Preheat oven to 350 and grease a cookie sheet (i just lay parchment paper down). Mix flax egg with water in a small bowl and set aside for 5 minutes.
In a large bowl, whisk together the dry ingredients. Add wet ingredients and mix well. The dough will be very, very thick, but don't worry!
Stir in the chocolate chips until combined.
With wet hands (I usually spray them with oil), shape small balls and place on prepared baking sheet.
Bake for 14-15 minutes. Cool on the baking sheet for 10 minutes before transferring to a cooling rack.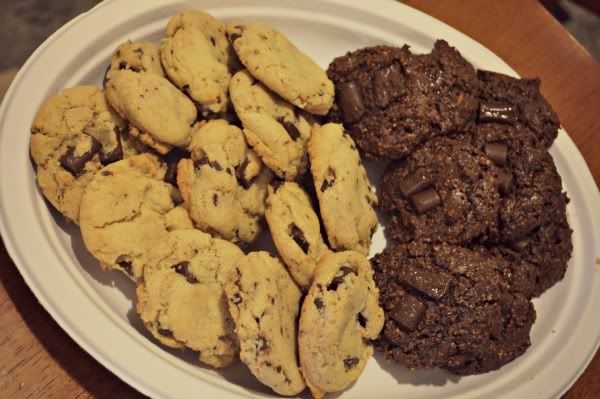 i made a plate of cookies for a friend with half vegan, allergy-friendly cookies and half regular chocolate chips (using
this recipe
, which was amazing!). not a bad spread, right?!