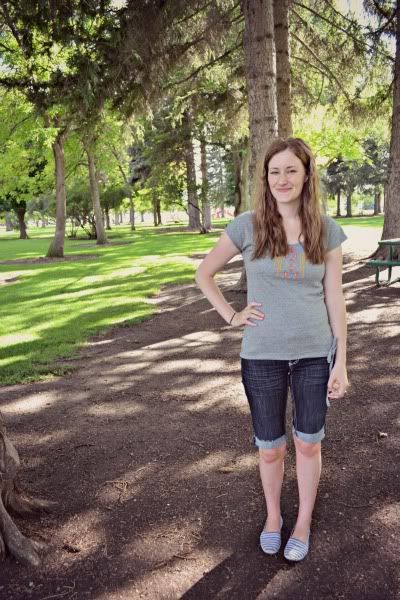 sneakers: kmart; jeans: panache/cut into shorts; tee shirt: target clearance
a casual outfit and FRIZZball hair for a day of errands on my bicycle, taco bus picnic for dinner, and root beer floats with great friends! it's summer time, and summer time = no fuss outfits.
my friend ali did a
rose, thorn, bud
post on her blog over the weekend and i liked the idea, so here's mine! it also felt fitting considering the bachelorette finale i just finished on hulu...
(p.s., ali just started blogging her outfits and she is probably the cutest mom ever. jealous!)
rose:
-having a friend to go on morning walks with! being outside is good for my life.
-strawberry kefir, fresh raspberries, apple pie...all summertime fruit.
-the LIBRARY! it smells good and it's quiet and air conditioned and full of free books.
-gummy smiles and middle of the night nursing times...being mom is pretty sweet.
thorn:
-i started the 30 day shred last night to kick my post-baby self into shape. it's worse than i thought.
-joonbug in 6 month clothes already.
::insert sobbing::
-photobucket and google chrome refusing to play like a team.
bud:
-our wedding anniversary is in just over a week, my bff shpitty's coming to town this week, and i get to see my parents and david's dad in a few weeks! all of these things are bonuses in life.
any roses/thorns/buds in yo life?