sandals: kmart; skirt: old navy dress cut in half; belt: f21; tee: target; necklace: nikki lorraine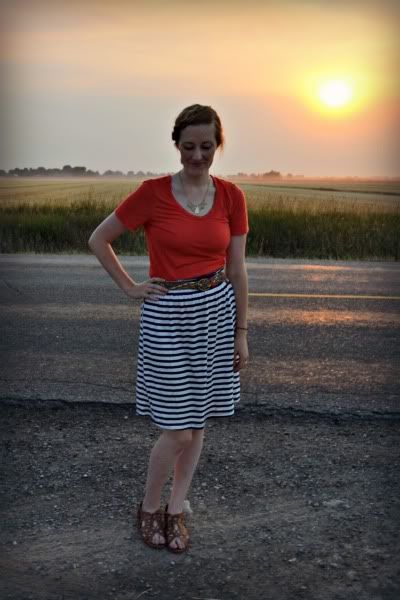 it's been over a year now since the day i found out i was pregnant!
i tried not to talk too much about pregnancy around here because i figured you were here for the outfits and not life ramblings...but today, i'm a lady on a tangent!
it had been a year or so since we'd started crossing our fingers for pregnancy. i know that seems like a really long time to some, while to others it's not bad at all. either way, a year had passed and sometimes i was patient and sometimes i was very frustrated. i bought a pregnancy test that day without thinking too much about it, though. i hadn't been tracking anything that month and david was out of town on business that day.
i did my thing in the bathroom and...the first test was a dud. no line in either window. i tossed it in the trash and went to work all day without a second thought to it. when i came home, the second test from the box was sitting right there on the bathroom counter so i took it...and you know the rest of the story.
i laugh-cried hysterically in my bathroom for a good 20 minutes before pulling myself together and heading to salt lake, where i was meeting up with david to go to
a good friend's
wedding reception (i wore
this
!). i picked up a onesie from target that read
little peanut
and gave it to him that night in the crappy little hotel room we stayed in. we cried and prayed together and felt so much hope and joy and it was just the best ever.
...and that is how i found out about the existence of our little junior.