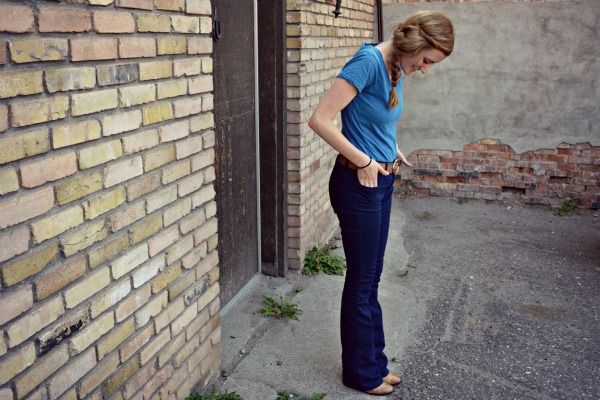 boots: mommed; jeans: gap; belt: ae; tee: walgreens
i got the blues!
(that was a reference to those old macaroni and cheese commercials and me wearing all blue, not me saying i
feel
blue)
we bought a washer and dryer on the day i wore these pants, the first set we've ever owned together. after coin-op laundry for the last 3.5 years, we're pretty excited to be doing laundry right here in our apartment.
however, before that washer and dryer showed up, we hadn't done laundry in quite a while and these were my one and only pair of spit-up free jeans. i love them, but they have to be worn with heels...which i don't usually do for a casual day of errands. oh well, i felt a little bit like jamie lee curtis' character in my girl...although i'm not afraid to admit that she's considerably more fabulous than i am in bell bottoms and boots.
in other news, i took this chubby tummy to a field in our new neighborhood locally referred to as "the pit." we enjoyed the fresh air and laughed at frankie (whom we're dog-sitting) as he sprinted around like a crazy pup.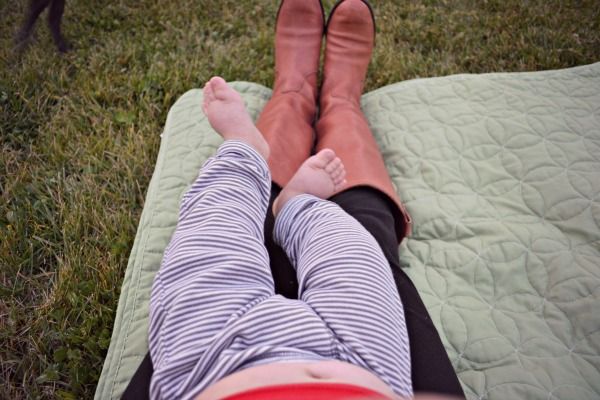 and it was good.