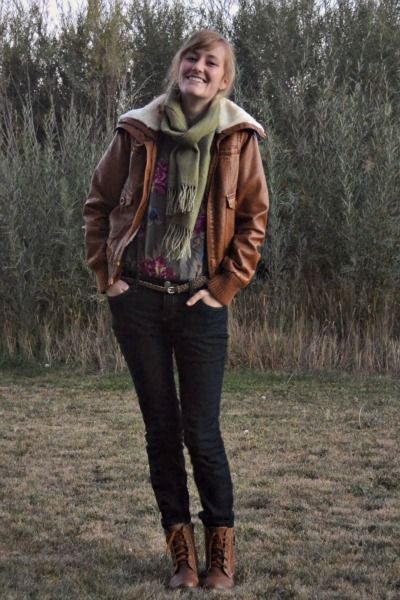 boots: c/o wanted; jeans/coat: target; belt/top: panache; scarf: gift
it's david's birthday weekend!

he's getting older and i'm so excited to spend a couple days celebrating it. i've got a few tricks up my sleeve...and one trick that never made it to the sleeve because i was careless enough to open the box right in front of david. i am
terrible
at surprises. all that aside, my husband is the kindest, funniest, most loyal guy i know and every day i find new things to love about him. happy birthday, babe. joony and i adore you.
speaking of birthdays,
panache
turned four on wednesday! i can hardly believe we've been in business for four years. i can't imagine our lives without that silly little clothing shop. it's had multiple makeovers in those four years, but this most recent one (along with the distance i've been able to put between myself and the day-to-day hustle of the store) has made me fall in love with her again. owning a business is an emotional roller coaster for sure--the lows can be quite low, but the highs are exhilarating. we've put a lot of heart into that business and it's steered our lives in ways we never imagined it would...but it's all shaken out to be the best thing for our little family.
AND ON TOP OF ALL THAT...joony turned six months old yesterday. it's a big week in our house. i can hardly believe all these milestones we're hitting. time is whizzing by so fast i'm barely able to process one thing before the next comes up!
**the title: my mom always called our birthdays "burping days." i don't know why. funny family thing, i guess!