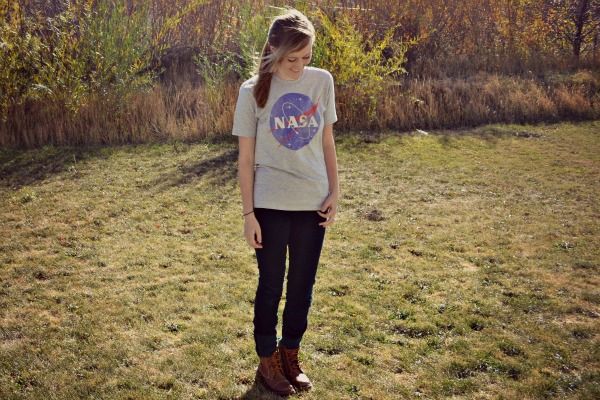 boots: c/o wanted; corduroys: jbrand; tee: target men's/altered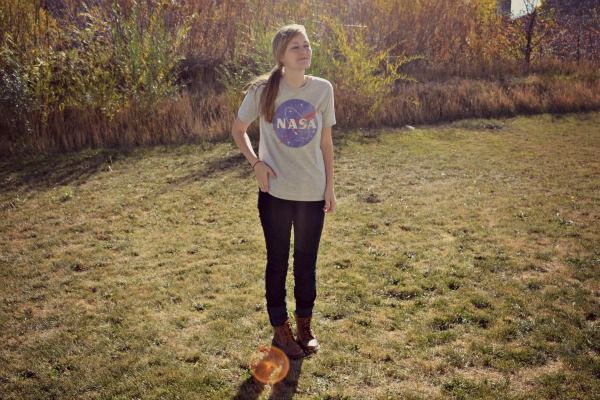 a day of housework and errands sometimes just calls for a NASA tee shirt. and turquoise corduroys. i kept admiring this men's tee shirt at target but not buying it because i didn't think david would like it. finally i decided to just buy the thing and take the sleeves in for myself. i'm glad i did...it's a new, comfortable favorite! and i can show my support for space: the infinite frontier! that actually just makes me think of will ferrell as harry caray. "just say yes and we'll move on!"
currently:
watching
:
the mindy project
. i loved
her book
and have been excited about this show ever since i first heard about it...it hasn't disappointed me! do you watch? you like?
listening to
:
some nights
(that video gives me the chills). i can't figure out itunes on a new computer so i've just been listening to the top 40 station here...and maybe i'm in love with one direction. maybe.
thinking about: getting a gym membership and getting my bum into shape. working out is one of those things that i always wish i did more of, but never actually do. and i'm tired of wishing, aight?
trying to figure out: baby sleep. but who isn't? i'm trying to gently change joony's sleep associations, but usually i'm so tired i end up just nursing him back to sleep so i can conk back out as quickly as possible too.
looking forward to: my sister's baby shower next month, seeing family, being home, snuggling a brand-new baby niece at christmas, seeing my sister become a mama, taking one of my mom's yoga classes...all of it.
making me happy
: little joony's snores on the baby monitor, david's
blog posts
, cold toes in the mornings, and a warm cup of pero.