boots: madewell; pants: panache; tee: ebay (
buy here
); cardi: ? old, my storage unit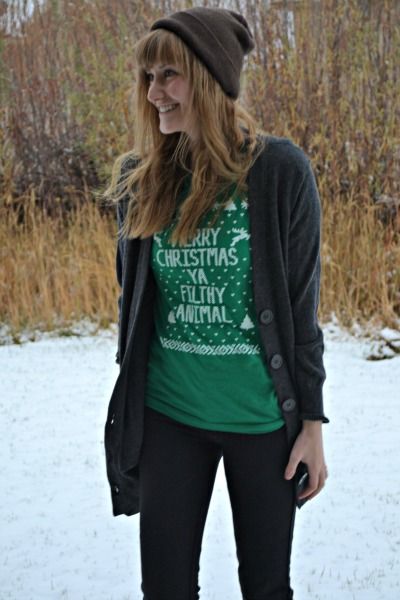 three things about this outfit:
1. i stole the beanie from david, who bought it at the grocery store for $1. i snort-laughed when he wore it for the first time and said it looked like a turd on his head, like the loving wife i am (
don't worry, for every snide comment there are like seven toosh squeezes
). but then i wore it, so what does that say about me? you can just call me ole turd-head.
2.
i pinned
this tee shirt on
pinterest
and every time it got re-pinned it would pop up in my news feed and i would see it again and chuckle and think, "man, i really do need that shirt for the holidays." so i finally ordered it and now i'm so happy i have it to wear for the next month and a half!
3. i wore these boots in the airport coming home from california the other day and someone came up and complimented me on them, which was really sweet. she asked where i got them and i responded, "madewell!" i pronounced it
made
-well, because, you know...that's how it's spelled. and she said, "don't you mean
mad
-well?" umm...no...anyways, kate said she called a madewell store and the girl who picked up pronounced it
made-
well. so i was right! and why would they put a silent
e
in there, after all? right. they wouldn't.