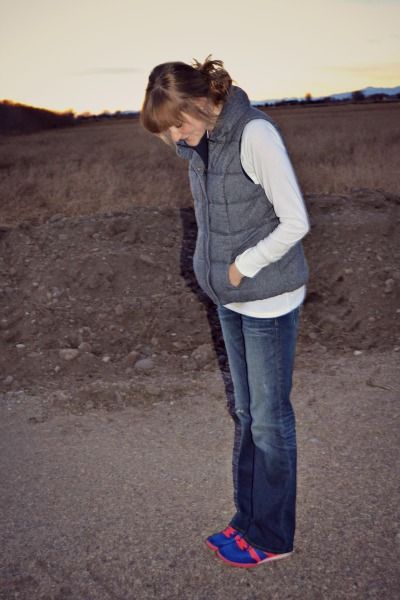 sneaks/vest: old navy; jeans: ae; tee: target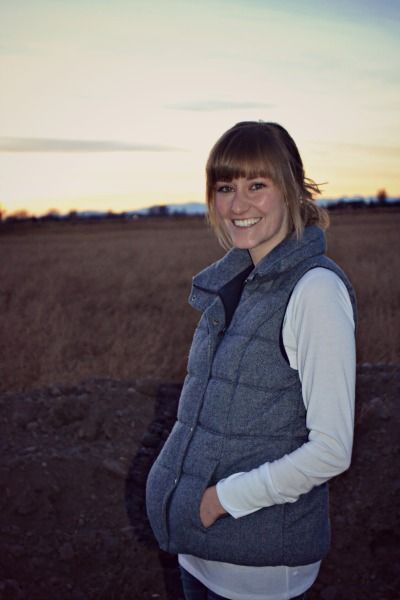 the mediocre quality of these photographs brought to you by a fuh-reezing nighttime stroll!
this was actually on thanksgiving day, when we thought to ourselves, "sevles, you have been sitting around on your butts all day long. go outside and walk and get some fresh air." well, the fresh air was also frigid so our walk was fairly short, we came back inside, the end.
three things:
1. this outfit is what i call my "mom clothes." before i had joony, a buncha pessimists out there told me i'd never ever want to do my hair or get dressed or wear make-up. and on the days that this is true (which, by the way, are few and far between)...i wear some variation of the outfit you see above. and boooy do those sneakers feel good on my feet.
2. speaking of sneakers...i'm running a half marathon in march, okay? i say this here because i want to be held to it. i've been saying for years that i want to be a runner and i've become so tired of saying it that i'm going to start doing it. HUZZAH.
3. i've been reading
this gorgeous article
over and over, and it's gotten me into the christmas spirit faster than any decorations or music i've been around. the article is written by an LDS church leader, but i really think it would be meaningful to any christian celebrating the season. i might be extra emotional because it's joony's first christmas, but i tear up every time i read it.