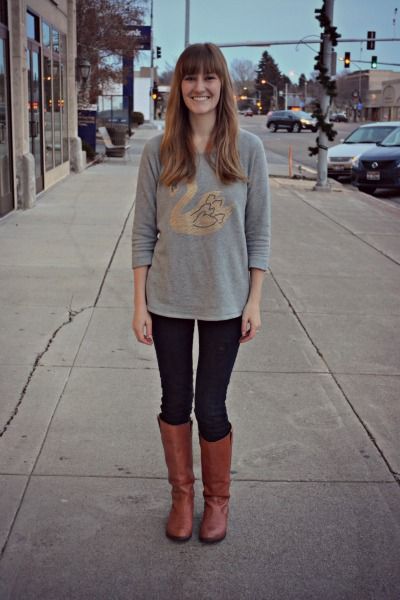 madewell archive boot; jeans/sweatshirt: target
i picked up this swan sweatshirt on black friday at target! we went later at night once the nutso crowds left. i wish i could say i got a crazy-awesome deal on it, but i just paid full price and happily went about my business, which mostly involved picking up cupcake-shaped erasers and miniature boxes of chocolate in the $1 section. when i brought my prize home, i proudly whipped it out of the bag to show david...and he started laughing. i don't know what is so funny about a sweatshirt bedazzled with a swan, but something about it tickled his funny bone. jokes on him, i've worn it like 5 times since i got it, it's so comfortable and soft! i wouldn't mind having sweatshirts with all the animal kingdom bedazzled on them to wear day in and day out.

so, to sum up...trips to target are always an adventure in needless spending. david thinks swan attire is funny. and i'd like a wardrobe of animals bedazzled on lounge wear. sounds about right for a monday.

oh, and the title? you know i had to. "shampoo is better! i go on first, and clean the hair. conditioner is better! i leave the hair silky and smooth! oh really, fool? really."