brandilyn's guide to an awesome january 1 in 14 simple steps:
1. alternate sleeping in and playing with a happy baby.
2. make a delicious sausage, egg, & toast breakfast.
3. have a surprisingly decent hair day (thanks, hair!).
4. dress your little boy in
omg-adorable
levi's (his first pair of real blue jeans!).
5. take care of some business down at your little clothing store (david did the books, i shuffled clothes around and played mannequin dress-up).
6. run a few errands, including a stop at the local farm and ranch supply store, where you pick up fancy new hiking boots for david, a $2 plastic sheet for sledding, and the cutest carhart baseball cap you ever did see: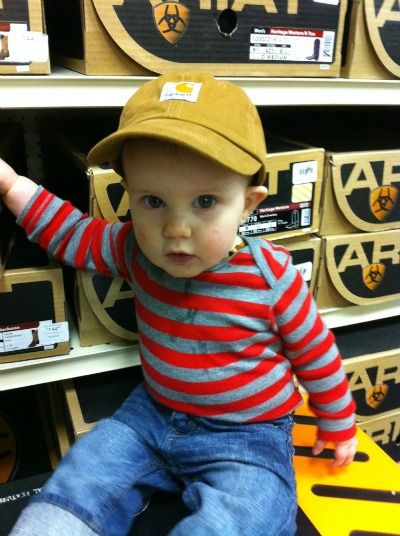 pardon the drool on his onesie. spit happens.
7. get burger king on the way home. be surprised at how good a whopper is. exclaim 50 times on the drive that the pooped-out baby in the backseat is the cutest: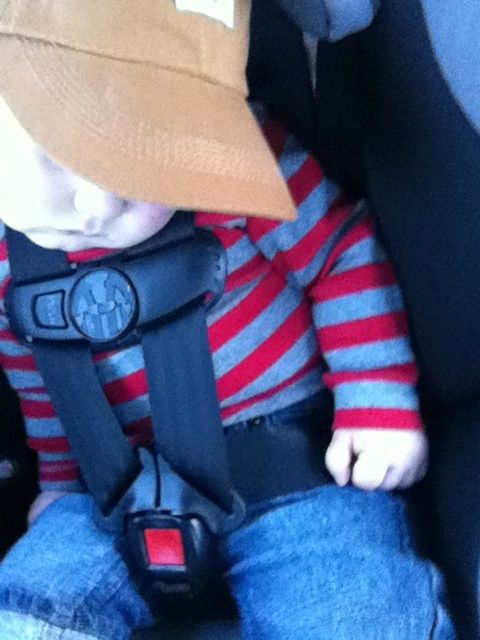 8. stop at "the pit," the local kid's favorite sledding spot. sled for the first time ever, wipe out, and join your husband in laughing maniacally while sprinting to the car because it's 2
°
outside.
9. decide that, despite the aforementioned temperature, a run would feel pretty darn fantastic. bundle up in every item of running gear you own: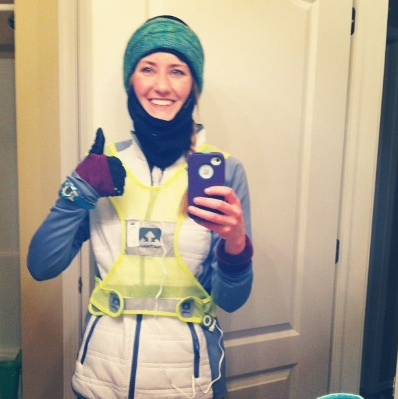 10. make
tomato peanut soup
for dinner. declare it delicious and lick your bowl clean.
11. cry at how sweet these two are playing together: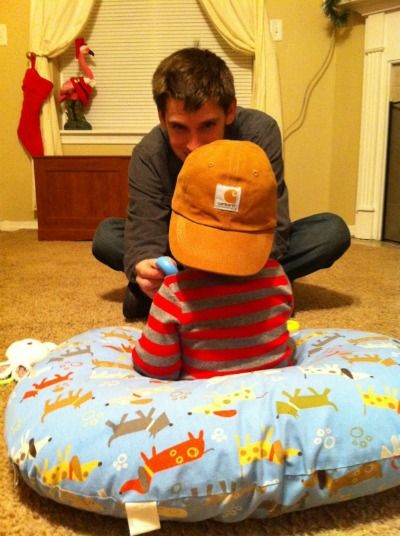 12. bathe a happy baby while soaking your run-sore feet in his warm bath water.
13. once the baby is done bathing, fill the tub with hot water, grab a book, and hop in yourself.
14. finish the night off with popcorn, hot cocoa, and an old episode of
the office
on netflix, cuddled up next to the one you love.
not every day is as perfect as yesterday was, which i think made it that much sweeter.
it was a good day to be me.