10 THINGS THAT MAKE ME TERRIBLY HAPPY:
1. running! well, being done with a run. every mile i run is still hard for me. my lungs have a lot of growing to do yet, but i'm hopeful and having fun feeling stronger every day.
2. the archer farms fruit leather at target...i could, no exaggeration, eat 10 in one sitting.
3. david's days off work. i live for full days spent with my husband, eating chick fil a and playing with our joonykins. and, while we're talking about work, promotions. it's always exciting to know that other people recognize how awesome david is, too.
4. this interview with rebel wilson:
she is hilarious, not to mention gorgeous.
5. david went to the grocery store (maybe because i was whining for a treat, i can't remember...the details are fuzzy) and came home with the following items: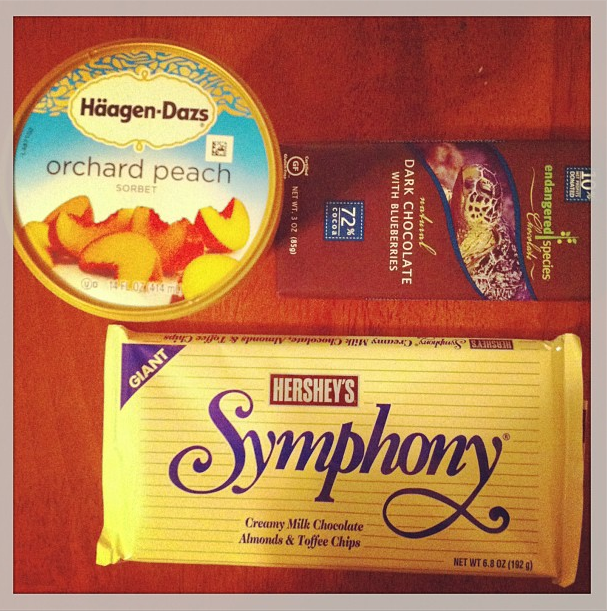 my hero.
6. my plant that is still alive and leafy-green and beautiful after 2-3 years of living with me. i always kill plants, but this one is still going strong!
7. nursing my baby. at 9 months he is still almost 100% breastfed and i do not take for granted the extra quiet/cuddle time this gets me. it's wonderful to be a mom.
8. mah friendzz. it makes my day when i get to kick it with my homies. girlfriends are so necessary in life.
9. nap time. ooh, nap time, when i sit quietly and eat lunch and maybe enjoy a mini can of diet coke. when my apartment is quiet and i can knock out a load of laundry or a sink full of dishes. when sometimes
the bachelor
gets turned on or an audiobook gets listened to. when i get rejuvenated and excited to hear my guy babbling into the monitor, ready to come play with me in the living room.
10. date nights! the wait at olive garden was forever long on saturday night, so we sat at the bar (i got a shirley temple because maybe i'm 6?), joked with the bartenders, and i brought tiramisu home for me and megs, my bff and joony's beloved baby-sitter. date night ftw.
happy list inspired by carrie and also naomi