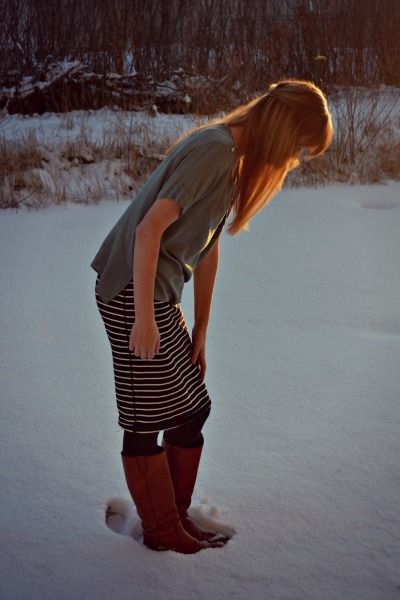 madewell archive boot; express tights; old navy clearance skirt; lovenell top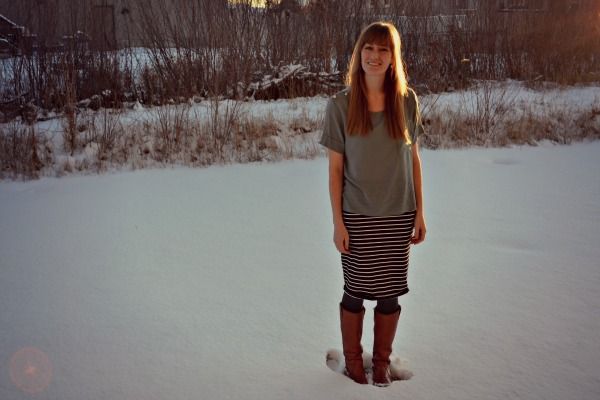 while taking these pictures a couple days ago, david popped up from behind the camera and said thoughtfully, "i feel like you need a statement necklace with this one...yes, a statement necklace." and i laughed condescendingly and told him to shut his pretty mouth and keep taking pictures. or something. actually, i think i probably said, "it's freezing cold! these are great!"
oh, and see that sun shining through my hair? you can see it because my hair is now paper thin. i was warned about postpartum hair loss once or twice, but thought, "hmm, my hair doesn't seem any thicker since i've been pregnant, i doubt i'll lose a
ton
after the baby's here!" and then the first few months of joony's life passed and nothing seemed different, and i was like, "see? all clear." oh boy. how wrong i was. when joony was about six months old, it started falling out big time. i'm talking clumps of hair. my ponytail is about an inch in diameter these days...it's getting a little ridiculous. i said good-bye to my body after my first trimester with a shrug and a, "yep, saw that coming." but this one is catching me off guard! luckily, hair grows, and i'd rather have a joony than a full, luscious head of hair.
and ONE MORE THING: i won my top in a giveaway! a
huge giveaway
, actually, from
bridget's blog
. soon i will blog about all the awesome stuff i walked away with it, because ohmuhgarsh...it has been so much fun.