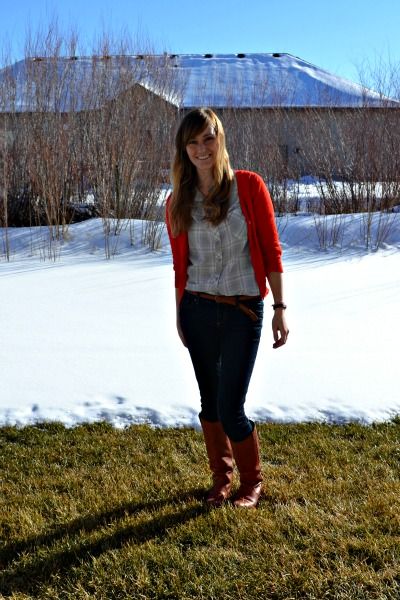 madewell archive boot; target jeans & cardi; panache top & belt
today i'm arizona-bound!
i'm running my race on saturday and i am so, so scared about it. i've spent the last few months working hard and pushing myself and i hope it all pays off. if i get a mile in and call it quits, at least i have a weekend in the sun with people i love, though, right!? so we're all ready. joony has a new swim suit (
seen here
), and i have new* running shoes, and we're hopping on a plane tonight. !!!!!
and now, before i go, i got tagged by
the lovely sydney
to do a 5 things thing. i did the instagram one, but this is the instagram tag
gone rogue
version. so, different. and i'm narcissistic enough to do it again, yaknow? ;)
one
- i unfollow bloggers who make grammatical errors constantly. my pet peeves are peek/peak and misspelling definitely.
two
- i secretly think my marriage is happier than everyone else's and that i love joony more than any other mom loves her baby. i know logically that's not true, other people love just as deeply as i do, but in my heart of hearts...david and i are the happiest couple who ever lived and joony is the most loved baby ever.
three
- i hate doing grown-up things. going to the bank, getting the oil changed in the car, calling the insurance agency....all of it makes me stabby.
four
- i think about labor & delivery every day. i think the choices women make during that crucial and vulnerable time have a way bigger effect on them as parents than most people realize. i'm hoping to educate myself more and eventually do something to help other women claim that amazing experience.
five
- i haven't read many literature classics, and i'm really okay with that, even as someone who has a degree in english. i'm a modern lit kind of girl.
**
my ankle's been killing me lately. i thought it was a new runner thing, but when i could barely walk after doing 5 miles, i thought to look at my sneakers. duuhhh. there was some kind of seam defect that was pushing into my feel/ankle. ohmygosh. i took it the local running store where i bought them, and they swapped them right out for these sweet babies. now i just feel dumb for running in shoes that were hurting me for the last 3 months.