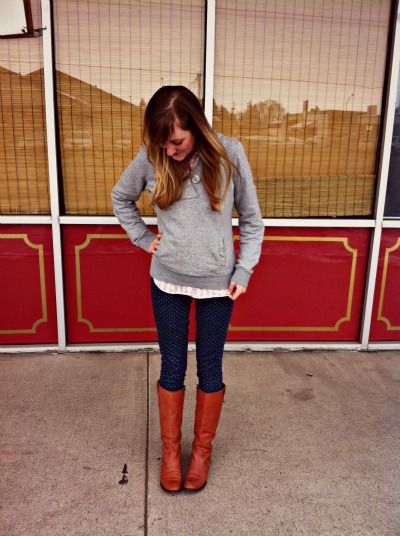 madewell archive boot; polka dot jeans: target; button-up: j.crew via berkeley buffalo exchange; sweatshirt: panache
at first i was like, "this is too many patterns for one outfit!" but then i just threw my arms in the air and screamed, "YOLO!!" i am just kidding. i'm too old to say yolo, right?
more signs i'm getting older:
1. i put a hello kitty sweatshirt in my online forever 21 shopping cart...and then thought, "will i be judged for wearing a hello kitty sweatshirt? am i too old for that?" for the record, it's
this sweatshirt
, which i didn't end up buying but i still think is pretty cute.
2. i put my pajama pants on and thought, "dang, did these shrink in the wash? they're barely skimming my ankles! they used to drag on the floor!" and then i realized...it's because they're not slung low on my hips with the waistband rolled once. THEY ARE UP AT MY NATURAL WAIST BECAUSE IT'S MORE COMFORTABLE AND DOESN'T SHOW MY B-CRACK.
anyways, i don't think it's so much my age as it is the fact that i'm a mom now. a housewife. a wife of almost 5 years. i'm almost not a newlywed anymore!
oh, and just to keep things real around here...the first of the outfit pictures we took this day: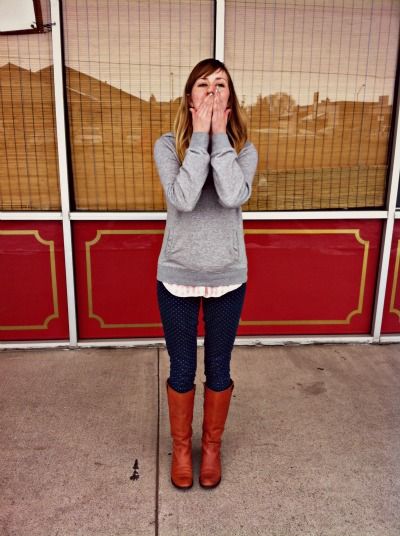 me, wiping food off my face because i'd just finished eating a huge skillet of macaroni and cheese at
the hickory in rexburg
, which is delicious. i ate there three times last week. shameful. shameful and delicious.