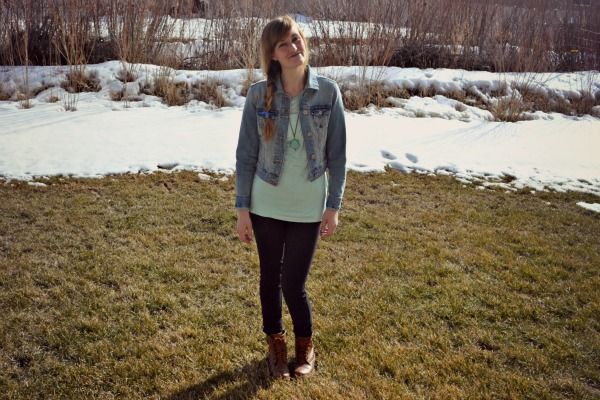 boots: c/o wanted shoes; pants: panache; tee: target; jacket: american eagle; necklace: world market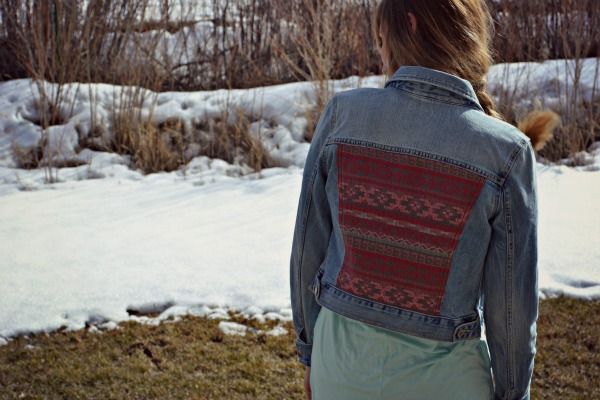 Once again, I'm eating my own words.
When I started seeing denim jackets being worn again, I rolled my eyes so hard I nearly got a headache. The last time I wore a denim jacket, I believe it was purchased at Limited Too and worn to the 4th grade Valentine's Day party at my school. I think I said, on multiple occasions, "That is a trend that I will just NOT be getting on board with!" And then I saw this jacket at American Eagle. I don't even usually shop there! But I fell in love, and I needed it, and I jumped onto that bandwagon and haven't looked back. Kind of like when I started getting really pregnant and ditched my convictions about leggings not being pants. The baseball cap trend, though...I really don't think I'll be hopping on that one!
Anyways, I put this outfit on after running a couple miles outside, taking a shower, and having a 10-minute chill out in my cozy bed. I was, as my yogini mother would say...blissed out. This jacket really is perfect for this time of year, too. We're closing in on the 40's here and it feels good to see that sun shine.
p.s. The comments on yesterday's post were such a comfort to me. I love it when moms, even though we all parent differently, stick together and cheer for each other. I cried, okay? Just putting it out there. Thanks for being so nice.