moccasins: minnetonka; skirt/chambray: target; tank: f21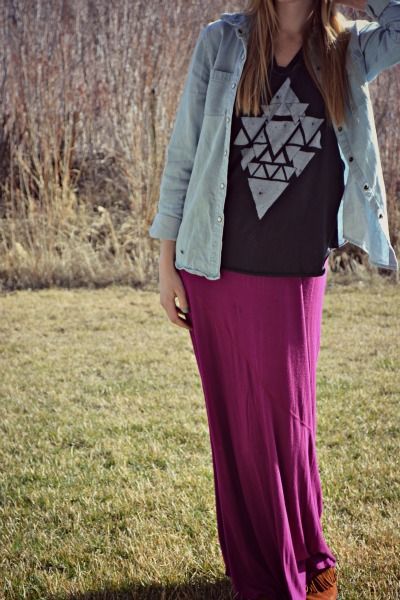 I took these pictures myself using a remote control and a tower made out of a high chair, a basket, a children's book, and joony's toy blocks. See?
It was weird.
Being the crazy lady standing in her backyard smiling at a camera on top of a stack of crap also got me thinking about blogging and what a bizarre thing it is, as I often do.
Sometimes I get so sick of it all and I want to just delete this URL and never think about posting an outfit, or anything, ever again. I think, "THIS IS SO NARCISSISTIC. I post pictures of what I WEAR and I expect people to
care
?"
Then I see other bloggers, people who have been at this for way less time than I have been, who have more followers than me and I get sucked into wondering why. I have to remind myself that they're working a whole lot harder at this than I am. They're doing link-ups (I don't even know how those work!) and sponsoring other blogs and commenting like it's a part-time job. I mean, I read blogs, and I comment on them, but not in the, "Cute blog! Follow mine!" way that I see so often. I don't make a penny off this blog (I have in the past, but not on a consistent basis and not very much). I've never had real sponsors. I don't know how to track traffic or use Photoshop.
So sometimes, I just think this is stupid and I need to either (try to) go big or shut it all down.
But I always circle around to the thought process of, "Would I still do this if I never got a comment on a post? If my followers number dropped to 0 and I was the only one who read my own blog?" And do you know, I probably would. I enjoy blogging just for the sheer pleasure of writing a weirdo little blurb every day, and taking pictures motivates me to put clothes on most days, and I like it! I love chatting with you guys in the comments, too. It makes my day.
So here I am. I will continue to blog my (super casual) outfits and post bits about my son that hopefully aren't disrespectful or embarrassing to him in 15 years. Maybe someday I'll finally be able to have a cat in my apartment and I'll live up to the first half of my moniker. Whaddup, internets?!