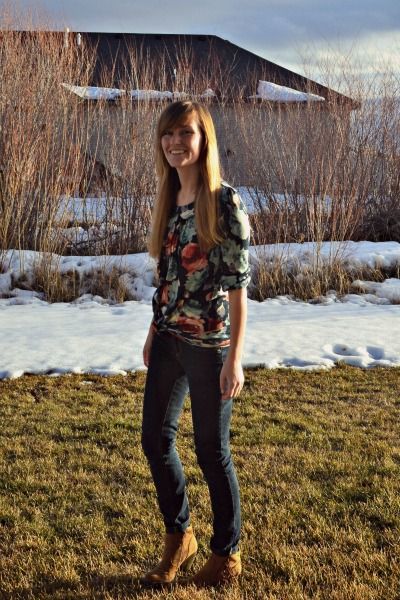 boots/jeans: target; top: bohme
I bought this top when I was holycowpregnant and it was awesome as a tunic with leggings. Now that I'm not pregnant, it hits about mid-thigh and is kind of a funny length on me. The extra fabric made it perfect to knot at the waist, though, and BOOM. Wearable again.
Over the weekend:
-Another
rough napping day
with my joonerkins. He learned how to put his takey over
my
eyes for peekaboo, though (usually it's his eyes we cover up), and it was so cute that all was forgiven.
-I baked David chocolate crinkle cookies. They are so rich, but soooo good. I used a gluten free recipe similar to
this one
(icing sugar = powdered sugar).
-Trying to sell our abundance of furniture on Craigslist. We impulse-bought some used furniture and had buyer's remorse! So now it must go. If you're in Idaho and want a cheap/huge couch/loveseat...
-More baking! I made
these pretzels
. They turned out pretty good!
-Finally saw Skyfall! We liked it, but as a genre I just don't enjoy action movies. Too intense. I'm a slapstick kinda girl myself.
-We taught Primary to the 10 year old boys in our ward. When David jokingly asked if they'd ever dropped a baby, one boy quickly replied, "Oh, yeah!" And we slowly scooted Joony away from him...
-Chick Fil A. Those chicken nuggets + Chick Fil A sauce don't make my world go round, but they sure make the ride worthwhile (heh heh heh...).