i posted this picture on instagram the other day and got a couple questions about it:
i thought i'd post a little bit more about joony's floor bed! it's kind of a funny thing we do, but it works for our family. maybe it wouldn't work for yours, and that's just fine! basically, joony's whole room is his. we've made it as safe as a crib would be, so he's free to be on his own without worrying what he might get into. we have a gate in front of his doorway, so he can't trap himself in there. of course, most of his time in his bedroom is sleeping time.
his bed is simply a crib mattress that we put on the floor. he slept in our bed for his first 7ish months, and then we slowly started transitioning him--not really because i was ready (i cried and cried; i missed having him in our bed!), but because he sleeps so much better in his room! we just never bought him a crib...cribs always looked like little cages to me! i don't think there's anything wrong with parents who use one, they just weren't the right choice for us. by the time joony started sleeping on his floor bed, he was rolling everywhere and aware enough to navigate the little drop from his bed to the floor.
so what does this mean for sleep time? not much. at nap time, i put him down on his bed, and if he's sleepy, he goes right to sleep. some days, though, i find him playing with a toy quietly in his room instead of napping. i'm just fine with that. learning to entertain himself is an awesome skill!
as pictured above, some days it means i find my baby asleep in the middle of the floor. if he's completely out, i'll gently move him back onto his bed and all is fine.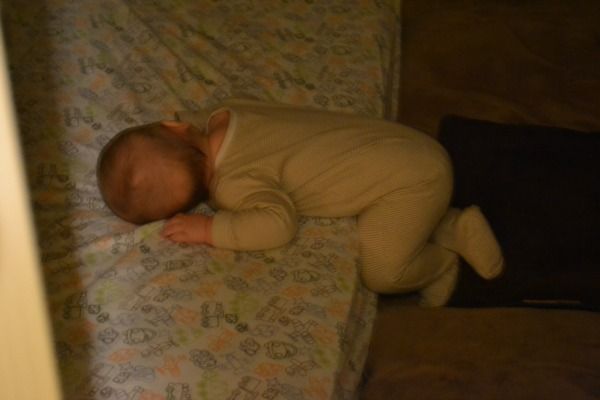 some days, when he's fighting nap time, he crawls over to the gate in front of his door and yells at me. on those days, i either move him back onto his bed and try to calm him down, or i let him come out into the living room and play with me until he's a little more tired. he doesn't have a terribly structured nap schedule; i follow his leads and he naps when he starts showing signs (usually rubbing his eyes) of being tired.
some days, i curl up on the floor next to his bed and take a nap with him. we hold hands, i listen to his quiet breathing, and i'm right there the minute he wakes up. it's the best.
so! that's how/where our baby sleeps. it's all fascinating stuff, huh? we're still figuring out this tricky dance that is parenting, and loving every step of the ride (except teething. teething can suck it).
any other floor bed mommas out there?
how's it working for you?