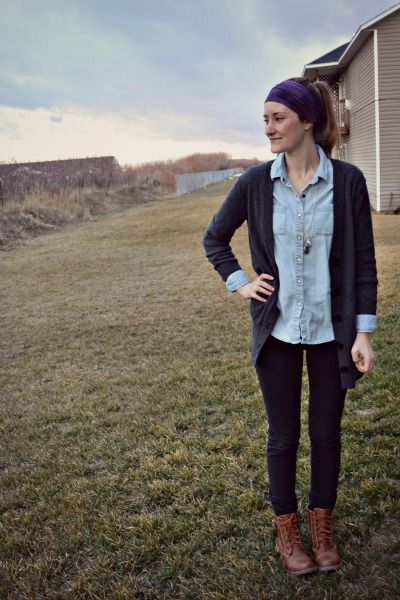 boots: c/o wanted; pants/necklace: panache; top: target; sweater: old/express?; headband: downeast
Dress like a scrub day!
Some days I'm like, "Hmm, I should wash my hair." Then, I don't wash my hair and I put a headband over it instead. Joony will initially give me a funny look when I wear headbands, and then laugh at me, and it's all good. That's one of the perks of working inside the home. Scrubby days are okay from time to time.
The other day the FedEx guy came by with a package for us. I answered the door, signed for the package, told him to stay warm (it's still chilly here, Spring or not!), and retreated back into my apartment. I then realized it was 3:30 in the afternoon...and I was still in pajama pants, Best Buck in the Bay 2010 rodeo tee shirt, and fuzzy #1 Mom slippers. Woops. I briefly considered feeling embarrassed, then shrugged and went about my business. As I mentioned yesterday, this job I work has it's tricky times...but there are also perks. Like pajama days with the cutest little guy I ever did see.