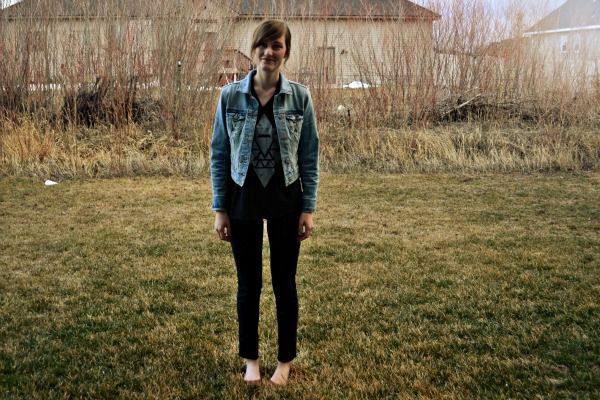 flats: target; pants: panache; tank: f21; jacket: american eagle
Thinking about
: What a special month April is for me. This won't be the last time I get sappy on here about this month (it's April 2 and I've done it in 2 posts now...), but celebrating Springtime and new life and the month that made me Joony's mom is very close to my heart.
Reading
:
The Book Thief
. I'm in a book club (which is pretty much my new favorite thing) and I didn't quite finish the book before our meeting. Discussing it got me excited to, though! I also have like 10 books on my shelf begging me to read them. I need to get my butt off the internet and into a book.
Listening to
: Our voices echoing around the empty living room. We sold our couch, love seat, and overstuffed chair on Sunday and bought new, preeeeeeeetty ones yesterday. We are chronic Craigslist buyers/sellers, but this time we sucked it up and bought new furniture. It's being delivered today and I can hardly wait!
Looking forward to
: Joony's birthday! Homeboy will have no idea what's going on, but I'm excited to celebrate and spend a day doing all of his favorite things...which won't be that different from every other day, I guess. Our world pretty much revolves around our Joon Bug.
Watching
: The Voice. I never keep up with shows like that, but there are a couple of
Rexburg guys
there this season and they are
good
. Let's go Midas Whale!
Making me happy
: The armholes on that tank top I'm wearing in this picture. They are 80's-muscle-shirt-style
long
, with a weirdly high neckline. This, however, makes it awesome for discreetly feeding Joony in public...because the armholes are big enough for nursing access. I know that is
so
the opposite of what Forever 21 had in mind when they designed it, but it's awesome anyways.
**Inspired by Danielle's currently post