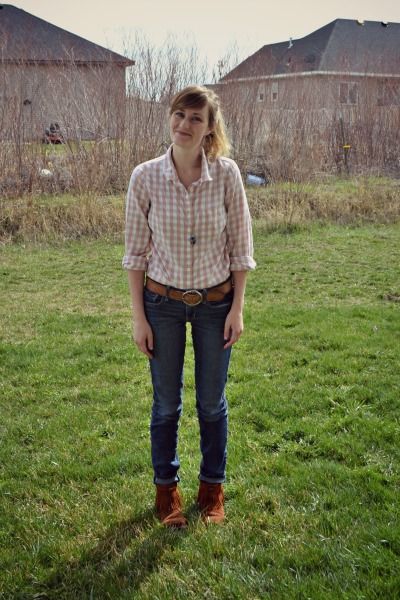 minnetonka moccasins; ae jeans & belt; j.crew top via berkeley buffalo exchange; panache necklace
Megan took this picture for me, and it created an uncomfortable situation.
It wasn't uncomfortable because Megan took the pictures. She's awesome. A little background:
My upstairs neighbors had a dog. I love dogs, but when we moved in our landlords made it clear that no pets were allowed anywhere on the premises, so we were surprised to see a dog running around and barking at us every time we came or went. I was a little peeved (I want a dog!), but moved on with my life.
As the winter snow started melting, we noticed a smell in our entryway. A strong smell. A smell like dog pee, you know? It became obvious that the neighbor's dog had peed in our entryway, it had frozen, and now that it was warming up...yes. Pee puddles. So we called our landlords and politely asked if the situation could be taken care of (one of the joys of renting, right?). They called us back, said they'd called the neighbors with the dog to let them know that we specifically had complained (awesome), and they said we were the ones with a dog. Huh? We assured our landlord that we did not, in fact, have a dog, yadda yadda, end of story.
So it became a little bit uncomfortable to pass those neighbors in the front yard from time to time, but oh well. The other day, though, when I asked Megan to snap a few outfit pictures, we got a little giggly. I went running out into the backyard cheerleader style, kicking my feet up and with my hands in the air, and shouted, "Let's take some pictchas guuurl!" Right then, I looked up on that neighbor's balcony, and she was standing there looking at me with raised eyebrows...then rolled her eyes and slowly walked back into her apartment. Heeeeyyyy neighbor!
Anyways, I guess it's all moot now because they moved out last week and there will no longer be dog feces all over our yard. And then she dropped out of school because no one would talk to her, and she came back in the fall for high school, and all of her hair was cut off and she was totally weird. Now I guess she's on crack.