With Joony's first birthday coming up, I thought I'd do a little post on the toys we love! Truth be told, he has
way
less stuff than any other baby I've met. Since he has birthday presents to open soon, I've gone through the toys he has and eliminated ones he isn't crazy about. We've never been toy collectors, and I truly don't think that kids need a zillion things to keep them entertained. Joony is just as happy banging a kitchen spatula against a wall as he is with Sophie the 20-freaking-dollar giraffe. He squeals and claps his hands whenever the bathroom cabinet is open and available for him to dig through (my contact case and our dental floss are the perfect size for his little hands to grab onto and carry all around the house, as are my old razors) (just kidding about the razors).
All of that being said...here are a couple things we have and love. I tend to shy away from overly bright, blinking, noisy toys in favor of simpler, classic ones that I think he'll use for longer.
What toys can't your kid live without?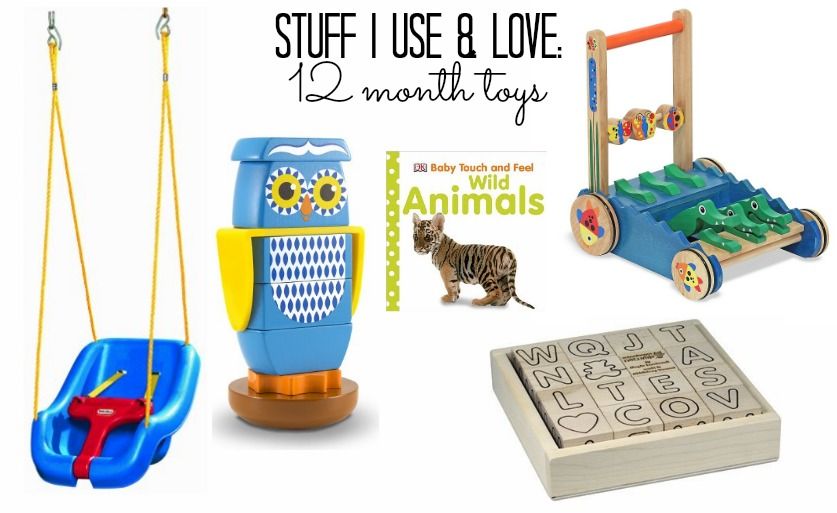 Baby Touch & Feel books
- It
kills
me to watch Joony play with these books. He flips through them, puts his mouth on his favorite animals (gross, but also cute), and loves that the spines are shimmery. Win.
Melissa & Doug Owl Stacker
- Their rainbow stacker was such a hit that we decided to get the owl one, too. He loves pushing them over and then inspecting each piece individually.
Little Tikes swing
- Our town does not have a park with baby swings (or if it does, I do not know where that park is)...and
Joony loves a good swing
. So we got him his own little personal swing for our backyard!
Schoolhouse Naturals ABC Tray
- OK, this is $40 on Amazon, and I got it for $12 at a closeout sale. I didn't think Joons would enjoy it right away, but he loves shuffling the blocks around in the tray, emptying it out, filling it back up, etc.
Melissa & Doug Alligator Push Toy
- My kid is like a sack of flour. Floppy jalopy. He's not even close to walking yet (which, truth be told, I kind of love...I am in no way ready for him to grow up), but I think this will help him along the way. Plus, once again...we freaking love Melissa & Doug toys.
**No sponsored shennanigans here, just stuff we honestly use and love!**