Are you familiar with the love languages? There's time, physical touch, gifts, acts of service, and words of affirmation. They're all important, but the way I feel love most is time. You can say you love me until you're blue in the face, but I won't believe it until you spend a little time with me. The way I
show
love, though, is a combination of acts of service and gifts. I didn't really realize this until my friends started teasing me about always bringing them food. Now I joke as I hand them a bag of cookies, "How will you know I love you if I don't feed you?"
Anyways, in that vein, one of my favorite things to do is assemble a package for a friend. Living permanently in a college town means that all of my friends eventually leave me and I have many people I love spread out all over the US. This is my guide to assembling the perfect package for someone you love: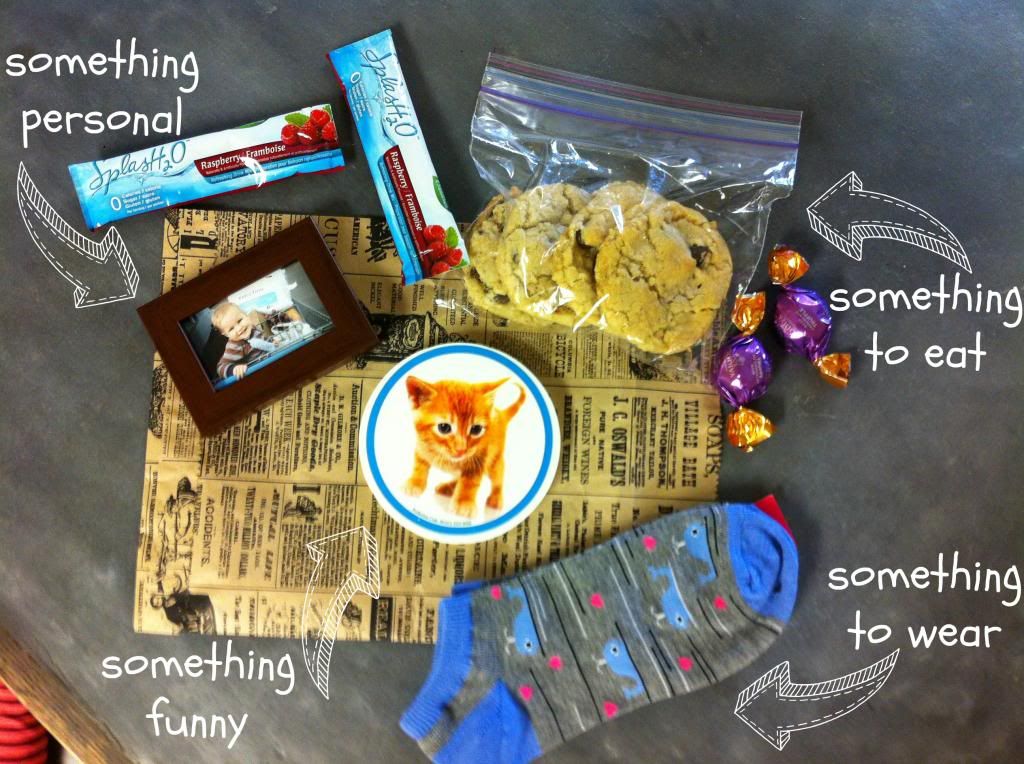 Food is the most important. Homemade cookies, fancy chocolate, a pre-made mix, whatever. There must be something to eat in every package. I also put in some drink mixes that I knew my friend Megs likes for this one.
Something to wear. Socks, a scarf, nail polish, a necklace, etc.
A personal item, like this framed picture of Joony (which was also kind of an inside joke in this case). This could also be a letter, a mix CD, just something that requires a little thought.
Something that will make them laugh a little bit. In my packages, it's usually something with a creepy cat on it, like this giant eraser. I once found miniature rubber babies to send to my bff Shpitty.
Finally, pretty packaging. I reused this cool paper bag from a local sweet shop to deliver this goody bag in person, but when I'm mailing a package, I like to decorate with washi tape or Hello Kitty duct tape. Sometimes I'll use an empty tampon box, which is kind of the same thing. You could also go the extra mile and use
an awesome tote bag
to hold your goodies, which I'm now wishing I had thought of sooner.
Boom! The perfect package. I like my formula because you can do it on the cheap (homemade cookies and a couple Target-dollar-section goodies), or of course, you could go much more extravagant (expensive chocolates, jewelry). The point is that you remind someone that they're on your mind and you love them, right?