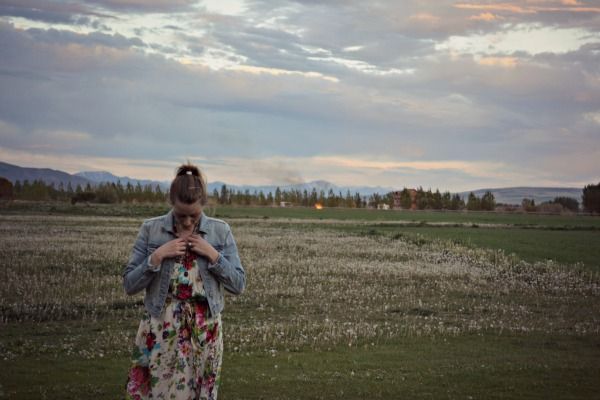 dress: this etsy shop; american eagle jacket; lucky brand necklace
When I put on my flowy-mummu-hippie dress to go the driving range, David said, "Are you sure you want to wear a dress to go golfing?" So I raised my eyebrows and maybe gave him a little sass right back. "What do you think women wore to golf in before we were allowed to wear pants in public? Oh wait...we delicate little things weren't allowed to golf then probably, right?" This was not the first time my feminist jokes have made an appearance in our household. A few weeks ago, I got started assembling our TV stand and when David walked in the room I pranced around and trilled, "Golly me, I do think I've managed to start assembling this heavy piece of furniture all on my own! However did I do this without a man to operate the tools? Have I mussed my hair?" Those got a good belly laugh from Dave.
All that to say, I went to the driving range in a dress and didn't mind it one bit. There isn't a dress code at our little small town mom-and-pop golf course, especially on the driving range. We didn't see a single soul the whole time we were there, and we joked and hit balls in dresses and loved life. YOLO! I see this becoming a regular evening outing this summer for us three.