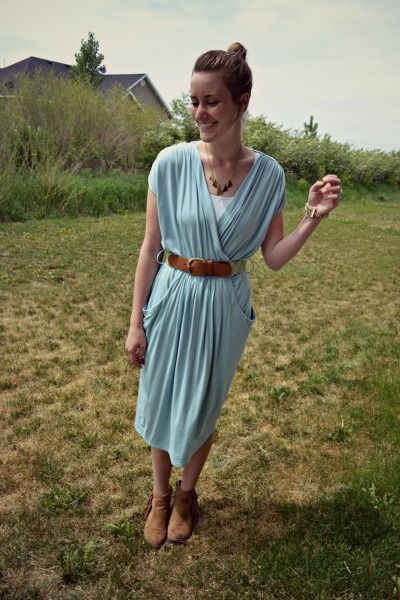 boots: target; dress: c/o downeast; belt: forever 21; necklace: nikki lorraine
Over the weekend, David and I got a little guest nook all ready in our third bedroom. We've never had this much space before and I'm really excited about it. The room is David's office, so we had to do a little rearranging, but the twin bed we got fits in there nicely. We have a lot of visitors coming this month (
I'M SO HAPPY IT'S JUNE!
) and I've been excitedly planning what treats I'll leave on the pillow, what meals I'll cook, what activities we can do with our guests. It's going to be great.
Last night, I was getting the bed all made while David and Joony flew their remote control helicopter around the room. I was on my hand and knees, tucking sheets into the far corner, when David said, "Wow, Joony, our biggest landing pad yet!" Thinking he meant the bed (obviously), I said, "I'll be done in a sec and you can land!" David replied, "No, stay where you are, we're landing on your back!"...and then laughed at his own joke for a couple minutes. Nice one, ha ha, Mom has a fat back.
P.S. Did you win the Shabby Apple giveaway? I've updated
the original post
with a winner!
P.P.S. Mom Clothes update: We'll be making the switch soon, promise! I'm excited to show you what I've been working on.